Lately I have been looking into using more eco-friendly items that I need everyday. I found a website called
Planet Inc
. that has a lot of household cleaning supplies, that are 100% biodegradable, not tested on animals and work just as well as commercial brands.
I was able to review
Planet Laundry Detergent
 and I was pleasantly surprised. It had no smell at all and was gentle on my brother's skin, he breaks out with certain detergents. The detergent did a great job, not just on regular clothes, but on our towels, our sweaty Tae Kwon Doe suits and even our dog beds and blankets. They all came out clean and with no perfume-y smell.
Planet Inc. products are packaged in recycled containers. The products are safe for your septic tanks, safe for aquatic life and hypo-allergenic.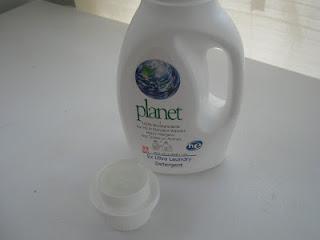 It feels nice when you know you are using more eco-friendly products, and when items aren't tested on animals.
*I was sent product in exchange for an honest review, all opinion are 100% my own.*