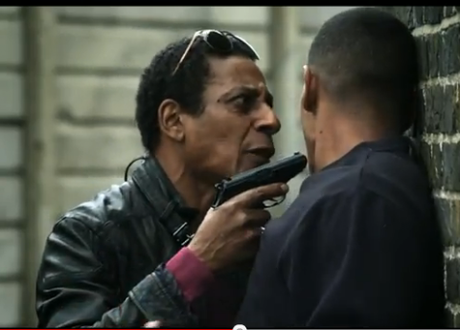 A still from Ill Manors
The background
Plan B's film, Ill Manors, premiered last week; the rapper's film about the disenfranchised youth of England thrilled and shocked those who saw it. Now the full reviews are in. It's an urban crime drama, set in East London, and is all about the summer riots. It stars Riz Ahmed as the troubled Aaron, with a mixture of professional and non-professional actors, and sees young Jake (Ryan de la Cruz Indiana) trying to buy drugs and ending up embroiled in gang culture.It also stars Ed Skrein as a drug dealer, Anouska Mond as a junkie prostitute, and Keith Coggins as an ex-dealer. Reviewers are giving it a mixed bag – they acknowledge its power, but say it's too melodramatic. Apart from Nigel Andrew at The Financial Times, that is, who thinks it's on a par with King Lear.
Read about the premiere of Ill Manors on Periscope Post
There's no substance to Ill Manors
Peter Bradshaw on The Guardian said that the first half hour is "great: chaotic, inventive, energetic." After that, the "dynamism leaks out" – it's "disappointingly and determinedly apolitical," with the characters "increasingly forced, derivative and unconvincing, with a touch of Guy Ritchie." In fact, it becomes a "geezery Brit-Pulp Fiction knockoff." Ahmed's character is "bafflingly flat and dull," and the finale is "wildly sentimental." But the start does have "power," and Drew dramatises the "despair" of those in the undeclass. There's also a great cameo from John Cooper Clarke, who looks "like a post-punk version of T S Eliot's blind Tieresias." But the film doesn't say anything about the disorder, and there isn't "much substance under the urban style."
It's a work of genius
Nigel Andrews on the FT didn't agree. He said Ill Manors "should be cordoned off like an exploding fireworks factory." It's "the most exciting British first feature in recent memory." The plot strands are connected "like a master electrician wiring a house," in his portrait of a "complex, terrible, tremendous and elemental" nation. There's "so much music it's like a Brecht opera gone rap." Drew uses a number of style devices – "jump-cutting, slo-mo, surreal camera angles" – but they're not redundant. Andrews compared it to King Lear, Anna Karenina and Mahler's 6th symphony – it's total genius.
It's a complete dirge
Nonsense, said Tim Robey in The Daily Telegraph. It's "hard-hitting in all the worst ways, like being repeatedely thumped by a randomly furious street hawker." We shouldn't buy Plan B's sell of himself as a "poet of the disaffected." Drew doesn't glorify the ways of life shown in this film, and there is "a certain raw muscle to his visuals." But his "ear for dark realities is tinnier than a soup cupboard." The plot gets sillier and sillier; though some of the anecdotes are drawn from real life, "where escape routes from these characters could well be thin on the ground, but wanting to liberate them from his imprisoning dirge of a movie is the more urgent priority."
It has its power – but it's too melodramatic
It's "unremittingly grim," said Geoffrey McNab in The Independent, and the characters are "hard to warm to." The storyline is "episodic," and individual scenes "shocking and powerful." But it strays "fatally into the realm of Victorian melodrama."
Watch the trailer here