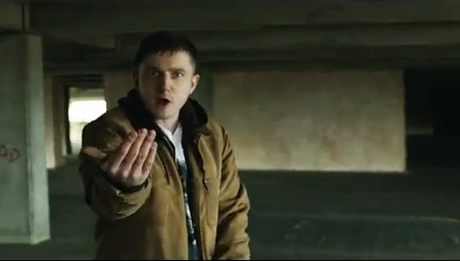 Plan B in the video for the single Ill Manors
The background
Rapper Plan B's film, Ill Manors, premiered in London this week. It follows a group of drug dealers, addicts and criminals, in Forest Gate, East London, on the Circle Estate.  It stars Riz Ahed, Nathalie Press and Dannielle Brent, and shows the intertwining lives of its protagonists. It's due out on 4th June. Four years in the making, it also inspired Plan B's rocket-fuelled Ill Manors single. The film is intended to portray a section of society that has been forgotten about, in all its grimness and misery. It's already causing ripples: early reviewers are united in saying that it's brilliant; but say that it doesn't actually castigate the government at all – even, in fact, that its message is deeply conservative.
"Anyone with a heart and anyone who cares about human beings and how we treat each and anyone who thinks we need to treat each other better," said Plan B.
A tricky feat to pull off
It's one of many films looking at social unrest, said Geoffrey McNab in The Independent, as well as musicians. Jay-Z and Kanye West's new song, "No Church in the Wild," has a riot inspired video. Egyptian filmmaker Amr Waked has made a movie about the Egyptian revolution; Stuart Urban in Britain has made May I Kill U? a "dark comedy set against the backdrop of the London riots." Ill Manors is "far darker." But it isn't easy to "portray urban unrest" – you can't be "too polemical", and you can't glamorise violence. The only thing that's clear is that "if the street unrest continues, so will the movies that draw on it."
What do teenagers think of it?
The film, said Richard Godwin in The Evening Standard, should "go down well at Iain Duncan Smith's ministerial department." It's "ingenious, fresh and thought-provoking." Plan B has even been called the "mouthpiece of a generation." So "what does his generation make of it?" Godwin watched it with some teenagers from Forest Gate. It was "shocking", sure – but he couldn't have predicted that some of them "would giggle" – from nervous energy. They agreed that the film was "true to life", but that there weren't any positive female characters.
"Who wants to see a happy ending?" asked Leon, one of the teenagers who saw it with Richard Godwin. "It's real life, know what I mean? There's never a happy ending."
What do famous figures think of it?
The Guardian rounded up some famous figures' responses to the film. Camila Batmanghelidjh said she wanted to organize a showing of it in Parliament. Film director Penny Woolcock said it was "very accomplished." Tinchy Stryder thought Plan B "a genius." Pauline Pearce, the "Hackney heroine," said the film "was very to the point." Toby Young found the film "refreshingly conservative." And Edwina Curre thought it was "terrific: vivid, disturbing and achingly sad."
While on the subject of 'ill Manors' Plan B absolutely smacked it as did those in it. Make sure you see it!

— Professor Green (@professorgreen) May 31, 2012