Anthony's Restaurant Rating:
75/100 X
Welcoming:7/10 Menu Choices: 7/10 Food Presentation: 8/10
Food Temperature: 8/10 Food Taste: 15/20 Service: 7/10
Ambiance/Music: 8/10 Architecture/Interior: 8/10 Air Quality: 7/10
Total: 75/100
More about:
Nonna Pizza
Celebrating NGNO's winning at the Social Media Awards, my friends I decided to have a fine dinner somewhere in Beirut. I've had enough of burgers lately so I thought why not have a tasty and crunchy Italian pizza. I have been hearing a lot about Pizza Nonna, the "a la mode place" of the moment… Many are talking about it and a lot of raving reviews on how good their pizza is… I had to try it. Following your suggestions, dear readers, Nonna was tonight's stop…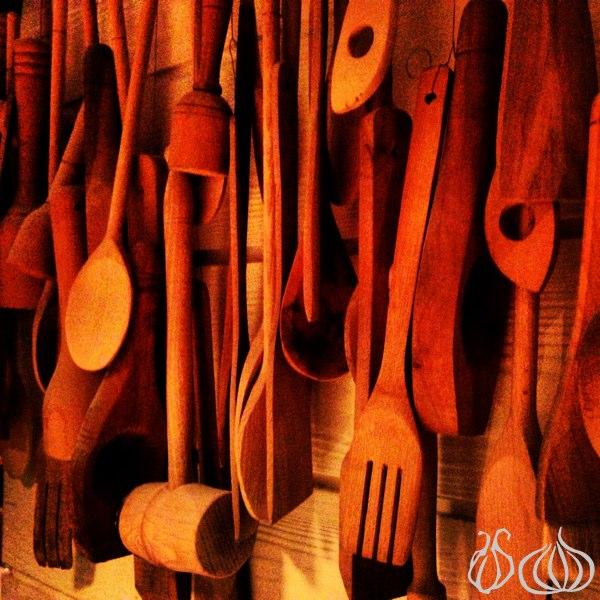 Located in the heart of Beirut, I walked into Pizza Nonna. Is it Nonna Pizza, Pizza Nonna, Nonna Pizzeria, Nonna Italian Restaurant? I don't know as Nonna doesn't even have a Facebook page or a website and the menu is not branded. Guys, we are in 2013, the age of social media.
Anyway, a nicely yet simply designed place, Nonna oozes the sense of Italy – an authentic Mediterranean feel in a humble and unpretentious ambiance. Although the place looks cozy, the first impression as I walk is not the best – hot and stuffy, the place smells of food, a lot of burning and grilling…
But the pizza is really something to try.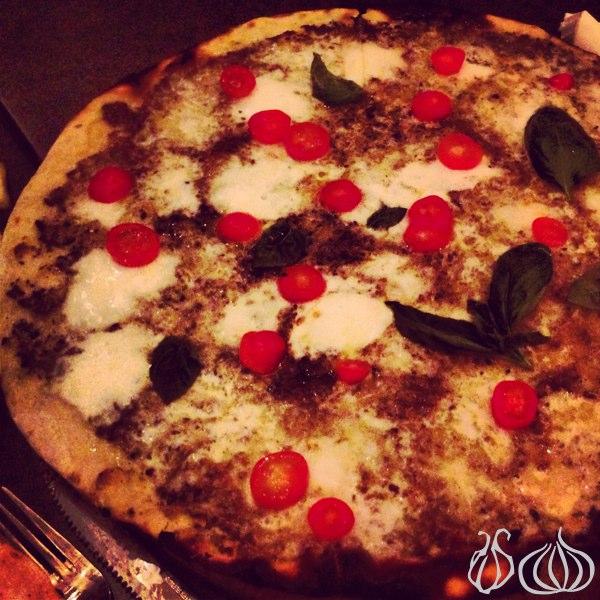 The place:
A white overall feel
Light-red neon ambiance
Soothing and jazzy music adds a relaxing feeling
Wooden tables surrounded by wooden chairs creating an Italian style trattoria ambiance
Up the three steps is a large wall covered with wooden blocks used to cook the pizza
The walls are covered with white strips of wood making the room look like a mountain cottage
Three glass facades give a pleasant view to the busy street of Monot
A black board features today's dessert's menu
Red bulbs pending from the ceiling give the space the required lighting
The middle poll is covered with wooden kitchen utensils. A nice and creative architectural touch
The menu sections:
Starters
Pizzas
Big Salads
Sides
Antipizza (Yes, Anti Pizza not antipasti)
We ordered:
Bufala Parma & Figue 24,750L.L
Al Tartufo Pizza: Olive paste, mozzarella, bufala, truffle oil, cherry tomatoes, basil 27,750L.L
Tosco Pizza: Tomato sauce, olive paste, mozzarella, mushrooms, bresaola, Parmesan, oregano 24,750L.L
Goat Cheese Pizza: Goat cheese mix, tomato sauce, moutarde a l'ancienne, cherry tomatoes, rocket leaves, balsamic reduction 24,000L.L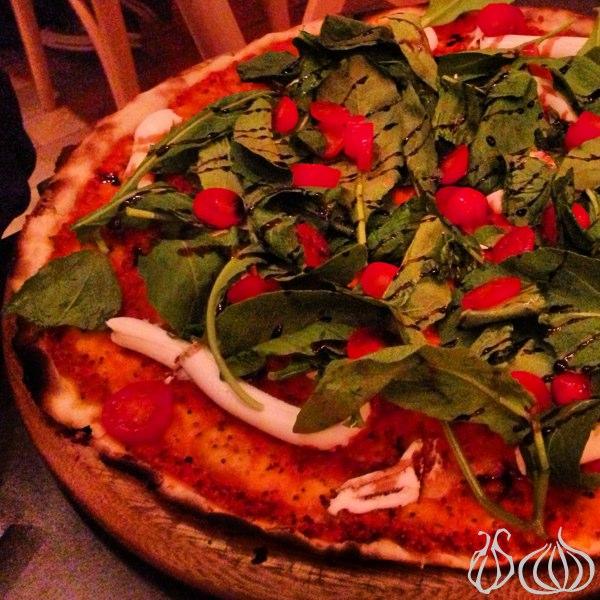 The food experience:
Fig jam surround the bufala cheese ball. This middle piece is embraced with Parma ham slices. Four basil leaves decorate the plate. A mix of sweet and salt blend together. Creative and tasty dish
The fries are thin, salty and crunchy. Tasty and presented in a small version of the frying basket on a wooden plate. The portion on another hand is too small and surely has to be more generous
The pizza dough is very close to our Lahme Baajine one. Thin and very crunchy yet tender in the middle, absorbing all the ingredients. It has a burned after taste on the sides that I personally love, maybe others don't
The Tartufo is too oily and the truffle taste is too prominent covering all the other ingredients. The dough was soaked in oil to the extent it felt like a soup of dough
The Tosca is the best we had tonight. Simple and clear, easy to eat with ingredients you can dissect individually. I liked the fact that the tomato sauce used gets dried out on the dough making the pizzas easy to be devoured without dirtying the surroundings
The goat cheese pizza is unique. The dough and tomato are cooked before adding the cheese, rocket leaves and tomato. The balsamic sauce adds this sweetness many adore. The cheese snake like strips are too thick and concentrated in single spots. The chef uses a bizarre kind of squeezable goat cheese that looks like snakes on the dough. One out of three bites do not contain cheese and the one that does is overdosed in it. It would be much better if it is spread more homogeneously. It will look better and surely taste better.
Not like many consider, Nonna doesn't have the perfect pizza. I agree that the dough is one of the best in Lebanon with a unique taste that cannot be compared to any but fine tuning the ingredients and their quantities has to be done.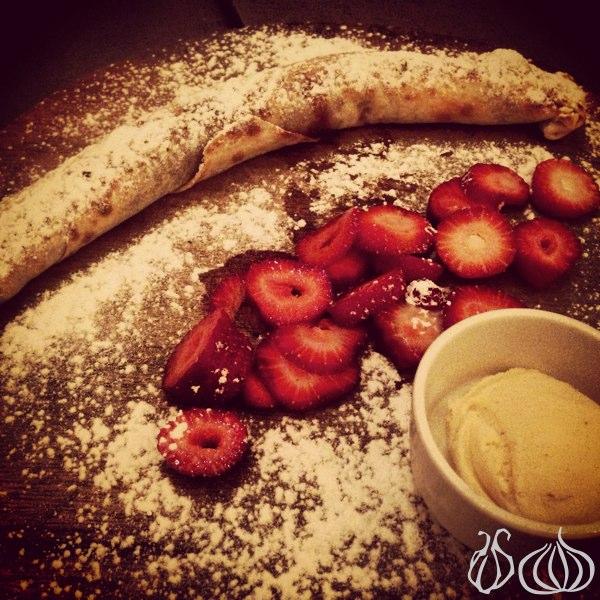 Dessert followed:
A rolled dough of Nutella served with cut strawberries on the side and a vanilla ice cream scoop. Nutella? Come on! How uncreative. A super sweet dessert that I didn't appreciate at all. Heating the Nutela spoils the taste making it sweeter and making the sandwich taste pure hazelnut while erasing the chocolate taste. Adding powder sugar on it makes it even sweeter and less tasty. How about a nice roll of dark chocolate with Grand Marnier spirit served with caramelized bananas on the side with couple of sliced strawberries; Try it and see for yourself
The pluses:
A lovely ambiance
A very tasty pizza
An Italian decoration that transports you to the land of pizzas
An attentive staff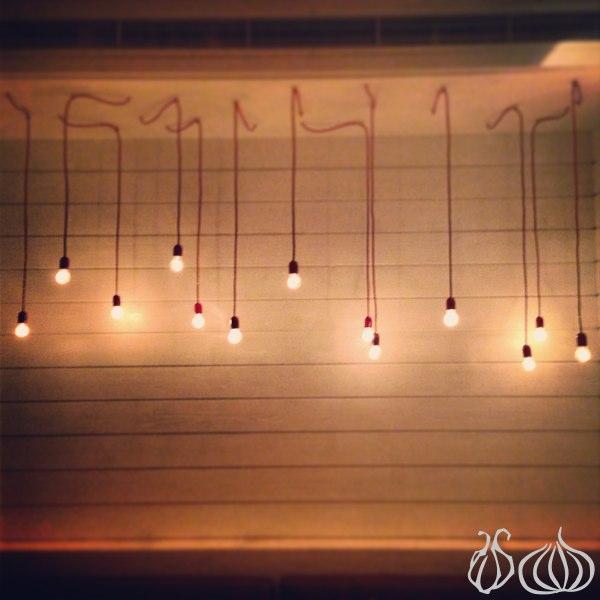 The minuses and must changes:
The bread served at the beginning is a disaster. The perfect recipe to visit a dentist; I should have left some of my other business cards (dentist) with the management. Super hard, and extremely chewy. It smells and feels old.

The choice of desserts is awful

The dessert taste is below average
How do you accept to open a restaurant with such low quality cheap paper for a menu? And what a childish response to convince customers: "We are still changing our menu;" when a place has been opened for 4 months already.
The first impression when you enter the restaurant is not superb. Hot and stuffy, the place smells food , burning and grilling.
Ask one of your staff members to open a Facebook page for you if you don't know how to do it
Improve the dessert choices and taste
I liked Nonna and can see a bright future for it. It is a must try for sure. The TOP10 Pizzas in Lebanon of 2013 has a new entry; Bravo Nonna.
























Pages  [
1
]  [ 2 ]