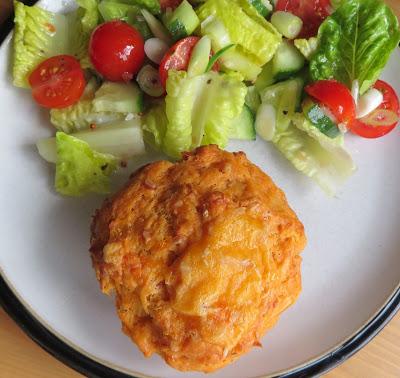 I think Pizza is one of my all time favorite food groups, so when I saw a recipe for Pizza Muffins on the
Donna Hay
site a while back I put it on my "to bake" list! They really appealed to me, however I did not want twelve muffins, so I have small batched it!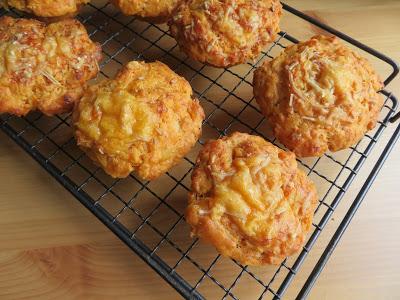 The muffin now makes only six delicious, flavour-filled, cheesy muffins.  I also adapted the recipe a tiny bit because  . . .  how could I not?  I just have to fiddle with things. I can't help myself.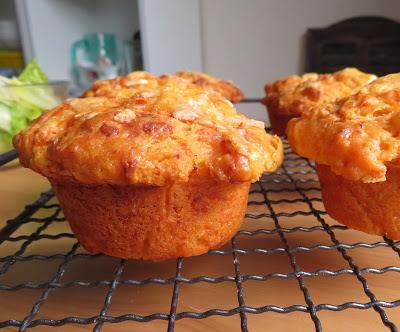 I will put my hand up at the start and let you know, yes  . . .  I
AM
one of those miscreants that thinks ham and pineapple are good on pizza!  I do not apologize for that fact.  We are all different!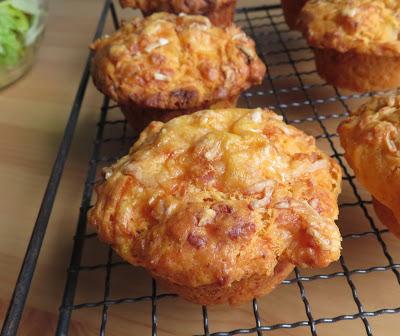 Her recipe had pineapple, ham and a bit of tomato paste in it, but that didn't shout pizza to me, so I added some Italian Garlic Seasoning and grated Parmesan cheese, along with the regular cheese. (Now we're talking!)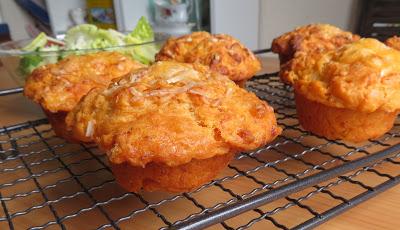 What is pizza without those two things???  You need some Italian herbs and some garlic on a pizza and Parmesan cheese . . .  it is like a Pizza's best friend!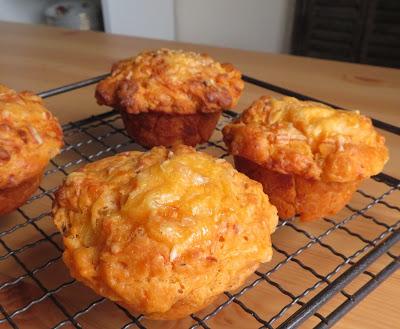 I didn't get really high crowns like I usually do on my muffins.  The cheese on top probably hampered their growth. If you look at her recipe and photo, you will see that hers don't have high crowns either. In fact she baked hers in little paper loaf cases.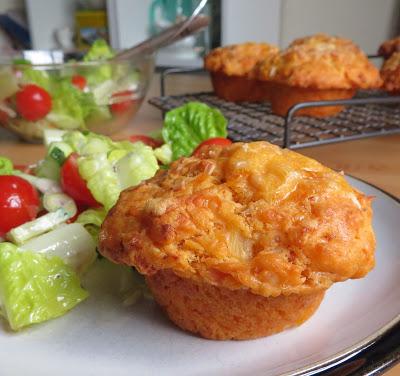 I did not bake mine in paper cases. I buttered my medium sized muffin tins really well instead. I have had too many things like pineapple and cheese stick to paper cases and I did not want that to happen.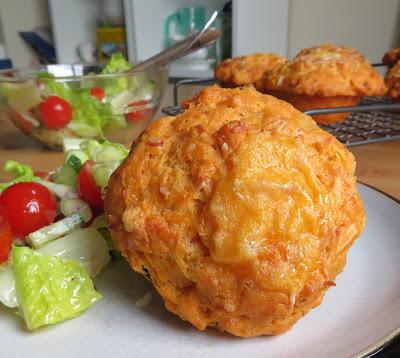 It was a good call as they did not stick and I ended up with lovely crusty sides and bottoms, which contrasted well with those lovely light insides.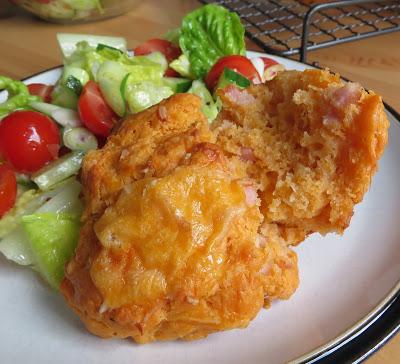 Adding the Italian Seasoning was another good call as I think they would have been rather bland without it. In fact if I make them again I will up it to 3/4 tsp rather than 1/2.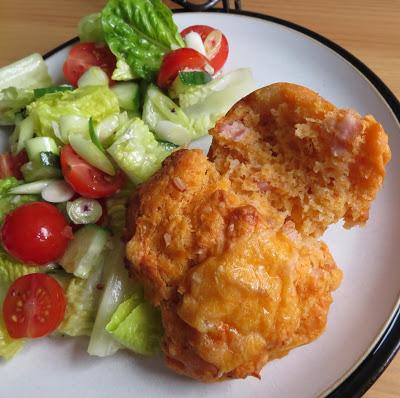 Make sure you cut your ham into a tiny dice. I did it 1/4-inch  which is very easily done. Just cut the ham into strips, stack them and then cut crosswise into the dice.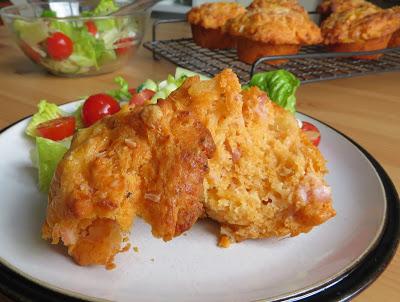 I think you could up the ante as well by adding a few other pizza ingredients, such as chopped olives or/and red onions, or peppers. You could use crumbled crisp bacon instead of ham if you wanted to.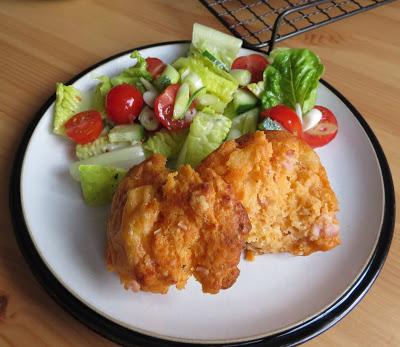 Leave out the ham and pineapple and use chopped pepperoni and peppers! Onions . . .  peppers!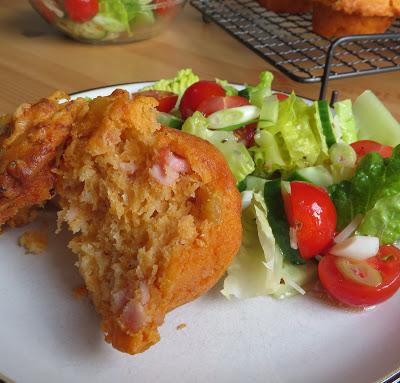 I think you could really make these over the top delicious by adding a few extras!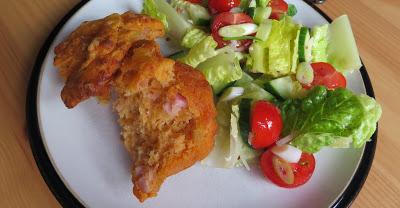 We enjoyed these warm with a nice salad for lunch! (Italian dressing of course.)  They would also go very well with soup!
Pizza Muffins (small batch)
Print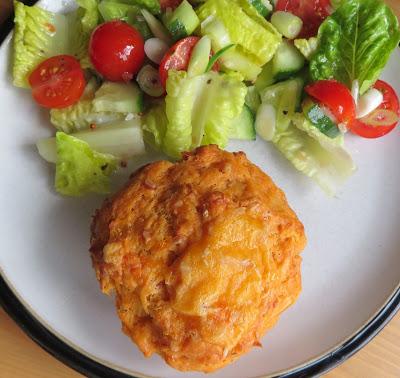 Yield:
6 muffins
Author:
Marie Rayner
prep time: 9 M
cook time: 30 M
total time: 39 M
These are light and delicious and filled with lovely flavours.  Ham, pineapple, plenty of cheese, some herbs and a bit of tomato. Scrumptious!  They make a lovely light lunch!
Ingredients:
225g self rising flour (1 1/2 cups)
1/2 tsp baking powder
1/2 tsp garlic Italian seasoning
75g chopped ham (about 3 ounces)
75g crushed pineapple, well drained (1/3 cup)
1 TBS tomato paste
1 large free range egg
125ml milk (1/2 cup)
90g coarsely grated strong cheddar cheese, divided (3/4 cup)
1 TBS grated parmesan cheese
Instructions:
Preheat the oven to 180*C/350*F/ gas mark 4.  Butter a 6-cup nonstick muffin tin really well. Set aside.
Stir the flour, baking powder, Italian seasoning and 60g (1/2 cup) of the cheese ogether in a bowl.  Stir in the ham, mixing all together well.
Whisk together the oil, tomato paste, egg, milk, and pineapple to combine.  Add all at once to the dry ingredients and mix together until just combined.  Divide between the six prepared muffin cups.
Mix together the parmesan cheese and the remaining cheddar. Sprinkle over top of the batter in the tin.
Bake for 30 minutes, or until a toothpick inserted in the center of one comes out clean.
notes:
You can easily make your own self rising flour. For every cup of pain/allpurpose flour add 1/2 tsp of baking powder and 1/4 tsp of salt.
Did you make this recipe?
Tag @marierayner5530 on instagram and hashtag it #EnglishKitchenCreated using
The Recipes Generator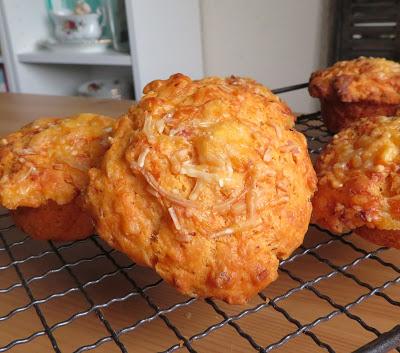 What kind pizza toppings are your favourite?  I love pizza with everything on it  . . .  Italian sausage, mushrooms, peppers, onions, pineapple, ham and plenty of cheese!

Follow my blog with Bloglovin