For this month's 'Home Baker's Challenge' we are making Bread. Manjula of Desi Fiesta is the host for this month and she chose 4 different breads for trying. After deliberating on which one to choose, I finally ended up making a quite simple, but super tasty Pizza Monkey Bread. I hope to make the others on the challenge too sometime.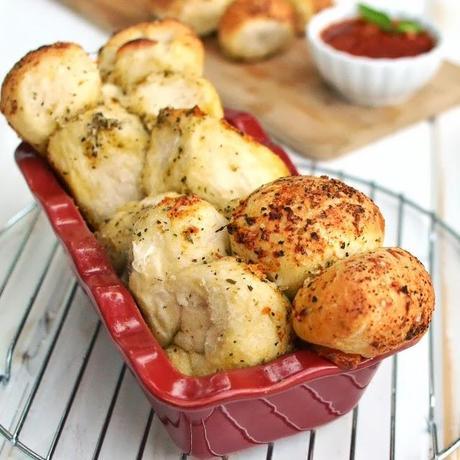 Monkey Bread
is usually a sweet, sticky, gooey bread served for breakfast in the US. I went with a savory pizza flavor this time and used a
pizza crust
for the bread. The bread was so soft and fluffy and tasted great when dipped with pizza sauce/ marinara sauce. To make life easy, you could also use store bought pizza dough and make this monkey bread in a jiffy.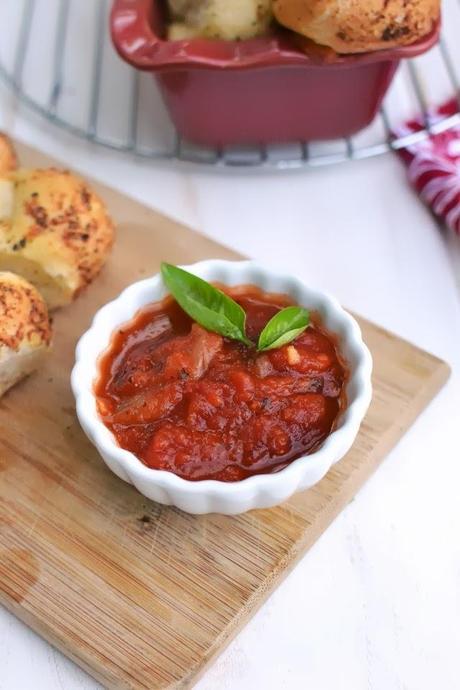 This bread is fun to make with kids. They can help in 'hiding'/ rolling cheese inside the little bread balls and they'll love breaking the bread apart and dunking into pasta sauce. This is definitely a must-try bread that is fun to make!!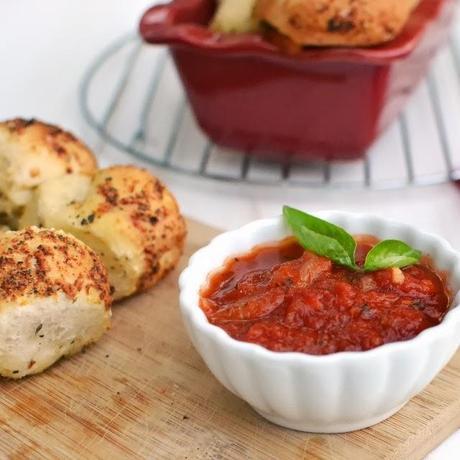 I only used half of the bread dough to make monkey bread since I was making this for my son and myself. I froze half of the dough to use later after the first rise. I baked monkey bread in a small loaf pan (6"x4"). Use a large bundt pan or couple of larger loaf pans (9"x5") if you are using the entire bread dough.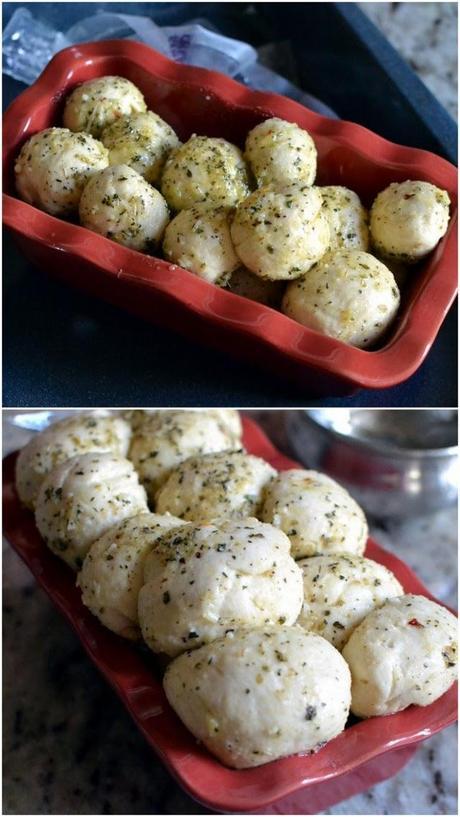 Ingredients
:
For the Bread
:
You can skip making this step and use store bought pizza dough for a quick and easy monkey bread.
All purpose flour - 3cups
Salt - 1¼tsp
Pizza Dough flavor - 2tbsp (optional)
Instant Yeast - 2tsp
Warm Water - 7/8 - 1 1/8 cups (Use the lesser amount in summer and more amount in drier winter weather)
Sugar - 2tsp
Herb Oil:
Double below ingredients if making monkey bread with all of the above dough.
Extravirgin Olive Oil - 2tbsp
Italian Seasoning - 2tsp
Grated Cheese - 2tbsp (I used cheddar, but mozzarella or any other good melting cheese will work)
Salt & Pepper - to taste
Other Ingredients
:
Mozzarella cheese - ½cup, cubed
Marinara Sauce - for serving (homemade or store-bought--I used Trader Joe's Traditional Marinara Sauce)
Method
:
Make the Bread dough: Whisk yeast and sugar into warm water. Set aside for 5 minutes until frothy.
Combine all the other ingredients for the dough in the bowl of a stand mixer or a large bowl. Add the yeast mixture and using the dough hook knead the dough into a smooth and pliable dough, about 5-7 minutes in the stand mixer or about 9-11 minutes by hand.
Let rise covered in a greased bowl for 45minutes to 1 hour or until doubled in volume.
In the meantime combine all the ingredients for the herb oil in a small bowl.
Gently deflate the dough and divide it into 32 small balls (or 16 balls if using only half of the dough). Place 1 mozzarella cube in the center of each ball and cover it completely. Drop each ball into the herb oil and roll it around to coat all sides.
Place the rolled balls in the greased baking pan and pour any left over herb oil evenly on top. Cover lightly with a plastic wrap and let rise for 45 minutes - 1 hour or until well puffy.
Around the end of the rising cycle, Preheat the oven to 375°F.
Bake for 30-35 minutes (22-26 minutes for smaller loaf) until lightly browned on top. Cool for 5 minutes before removing out of the pan to cool completely.