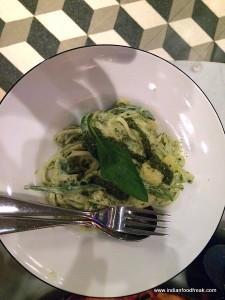 It is quite common for a restaurant to roll out attractive offers once in a while to keep people excited and interested. Promotions help to bring back regulars and attract the first timers. Always a fan of the Pizza Express quality, quantity and services, it was but natural for me to try their Easter Special Menu on my once a month trip to my friendly neighborhood restaurant. And boy was I disappointed – by their portions and their service.
The deeply discounted Easter menu allowed patrons to try out two main courses, one starter, and one dessert along with two glasses of wine for a very attractive 1495/-. The special menu did list a few new dishes which are not part of the regular menu, so we decided to try out the specials as far as possible. While we were quickly seated and presented with the Menu, getting any attention from the service staff was a tedious task. By attention I mean having them by our table for more than 5 seconds, no patience was extended to us whatsoever. Since my wife is a vegetarian, having only one pizza and one pasta from the menu meant that we would have to go for vegetarian options only. The 'offer' did not allow for two pastas or two pizzas under the special pricing.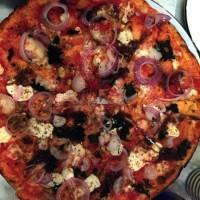 For starters, we went for the
Torta Rustica Salad
with Mushroom, Olives and Ricotta Cheese. The salad was a teeny-weeny helping which was devoured in seconds – hence the lack of photographs for this article

It was fresh, juice, flavorful as expected from my earlier visits. For Pizza, since they only offered a Classic Fiorentina option, we decided to select from the regular menu and selected the
Giardiniera
pizza. For the pasta, we selected the
Linguine Alla Genovese
– a generous creamy sauce with pesto, new potato and green beans.
The thin crust pizza was the normal portion (thankfully) delicious blend of caramelized onion, red peppers, anchovies, mushroom, herbs spread generously over a finely rolled pizza base. In my personal opinion, pizza express bakes amongst the most flavorful pizzas in the city. The big (or small) surprise was the pasta, which was half their normal portion size. I did not expect them to cut corners with the Easter Menu. The pasta was quite good nevertheless with an amazing blend of flavors and perfectly cooked pasta.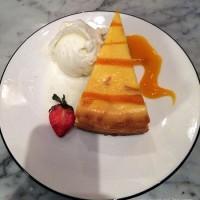 For dessert, we selected the Mango Cheesecake. A fantastic blend of ice cream, creamy cheesecake and mango sauce. Individually, they were nothing great, but together, they made one Brangelina dessert. I would go back just to savor the flavors again.
I still love the flavors and freshness of the food, but please do something about the service levels.
Ratings out of 5 (Only for Easter Special Menu):
Food: 4.0 | Ambience: 3.5 | Service: 2.0 | Overall : 3.0
Meal for two: Rs. 1,495 | Alcohol: Yes (Two glasses of Sula wine)| Timings: 11:30 hrs to 23.00 hours | Credit Card: Yes
Address : Dhanraj Mahal, Apollo Bunder, Chhatrapati Shivaji Maharaj Marg, Mumbai, Maharashtra | Phone Number : 91-22-6656 2633