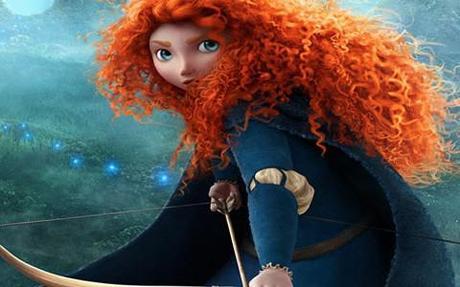 Merida, Brave's feisty heroine. Photocredit; Publicity still
The background
Pixar's Brave is out in America. It's set in Scotland of the 10th century, and is the studio's first film to feature a female protagonist. Merida (Kelly Macdonald) is the first born child of King Fergus (Billy Connolly) and Queen Elinor (Emma Thompson). She's given a bow and arrow for her birthday by her father; her mother disapproves.  Suitors arrive to contend for Merida's hand; she wishes that her mother change her attitude – only for her wish to be granted in a horrifying manner. The film is directed by Mark Andrews (though Brenda Chapman was initially at the helm), and also stars Julie Walters and Robbie Coltrane. The American critics are ambivalent – sure, it's a good thing having a female-focused film – but does it really live up to what it says it does?
"It is a fine movie but it wasn't as witty, clever or funny as the other Pixar movies…and I wanted the lead character Mereda to be memorable like Belle from Beauty and the Beast or Ariel from the mermaid movie. and she's just not…she's forgettable," said Kristian Harloff on Schmoes Know.
It's about a mother and daughter's relationship
Merida looks "like a wee Rebekah Brooks", said Melissa Anderson on Village Voice. She's a "much-welcome corrective to retrograde Disney heroines of the past." Merida has to "do constant battle" with her mother's "gender indocrination" – "Princesses do not chortle," says the Queen. However, despite this fact, the film is "devoted to restoring the sanctity of the nuclear family." Though it does have its "bold, at times perverse" moments. The film's hues sometimes "suggest Rorschach inkblots." For women struggling against their mothers, the film is "its own kind of psychological projective test." The plot, though, is "convoluted."
 It's conventional, but the acting and score are good
It's actually "a wee bit conventional," said Peter Debruge in Variety. The tomboyish Merida will ensure "near-universal appeal." Kelly Macdonald gives her voice "verve." Thomspon brings "deep reserves of empathy" to her role. The film is "darker and more intricate" than anything the studio's done before. Patrick Doyle's "dynamic bagpipe and strings" provide the soundtrack.
It's got all the old school Disney classics and will do well
The film may disappoint Pixar fans, said Todd McCarthy on Hollywood Reporter, but will "delight old-time Disney fans." It features "princesses, kings, queens, withces, evil spells and prankish secondary characters." It's "more familiar and less inventive than what's usually delivered." But "a muscular box office ride is virtually a given."
It's like the filmmakers were afraid of leaving out men
It starts off well, said Thomas Caldwell on Cinema Autopsy. But the middle and final acts "lack spirit" and contain "a mixed and contradictory message." The film wants you to believe that it's "in favour of people choosing their own fate, but it makes Merida suffer guilt for trying to escape." The male characters are "all comical" – yet "ultimately" what they say goes. "It's as if the filmmakers were afraid to commit to a fully female centric film and felt the need to include the rule of the father, even though the father is mostly redundant throughout the film." The whole thing is "frustrating" – mostly "because it began with so much promise."