If you looking for a good and high-quality tool set, then you have come to the right place. Here we are going to discuss the most popular and recommended tools provided by a famous manufacturer with a good reputaion.
Today, in this article, we are going to do Pittsburgh tools review and show you some of the most popular and useful sets that come at affordable prices and simplify mechanics' work.
Pittsburgh line is launched by Harbor Freight Tools since 1984 to supply better quality tools and accessories to their customers in the areas of construction, shop, automotive and home use.
The product line includes hammers, pliers, wrenches, screwdrivers, calipers, and impact sockets. The brand offers 90 days warranty for all tools, which is a great bonus!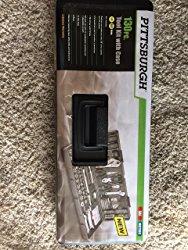 Stand out features:
This is an amazing 130-piece tool kit that offers all necessary tools for home, office or automotive repairs. With the help of the kit, you will be able to repair things yourself without needing professional help.
The kit includes a hammer, screwdrivers, driver bits, wrenches, socket set, pliers, cutters, locking pliers, tape measure, utility knife, hex wrenches, precision screwdrivers and commonly used fasteners and anchors. The kit comes in a carrying case.
Watch the video review of the product and take a better look at all tools that come in a case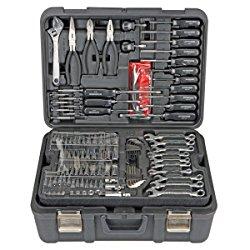 Stand out features:
301-piece set
Suits professional mechanical works
Various tools of different size
The kit comes in a durable case with lock and handle
This is a great set of tools that includes 301 items. This is a kit for professional mechanics. The kit offers SAE, metric, square, star, and spark plug sockets, ratchets, breaker bars, extensions and universal joint adapters.
Also, there are various combo, adjustable wrenches and pliers. All tools are durable and suitable for professional purposes. The kit comes in a special case with a few layers for smart tool organization.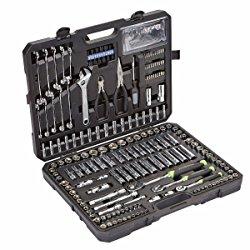 Stand out features:
225-piece set
Various size and need tools
Different size wrenches and sockets
The set comes in a durable case with lock and handle
This is another Pittsburgh 225 piece tool set that comes in a good-looking case where all tools fit perfectly. The kit consists of automotive and mechanic's wrenches, pliers, ratchets, sockets and drivers in SAE and metric sizes.
Also, there are 115 sockets, 4 extension bars, and 5 socket adapters and 1/4 in., 3/8 in., and 1/2 in. drive 72 tooth ratchets with TPR grips.
The kit can be a great gift for a professisonal mechanic or you if you like to fix things yourself and learn how to repair things without asking for a professional help.
See how the case with all 225 tools look and learn how to apply tools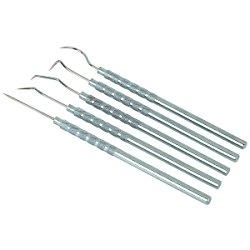 Stand out features:
5-piece set
Durable and safe test tools
Convenient grip
Made of stainless steel
This is cheap and affordable 5-piece set that comes without a case and includes 5 different tools test for circuit probing, removing O-rings, retrieving washers and other fine detail applications. Each tool has a perfect shape and convenient grip.
The set is made of stainless steel which ensures that tools are durable and will serve you for a long time. Also, there are rubber stoppers on the points for convenience and safety.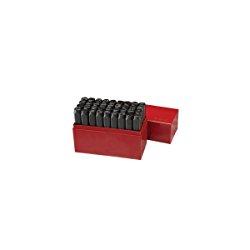 Stand out features:
Quality stamps with letters, signs, and numbers
Made of high carbon steel
The set comes in a case
Best for craftsmen, artists, and hobbyists
This is one more excellent and handy set of tools provided by the famous manufacturer that comes at a low price. The set is made of special high carbon steel stamps. Each stamp endures 9000 markings.
The stamps have letters "A-Z" and "&" sign, numbers "0-8" (you have to turn #6 upside down for #9). The tools come in a special case, so you will not lose a tool.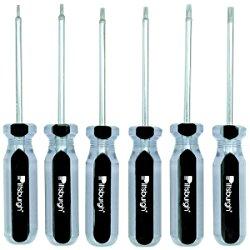 Stand out features:
6-piece set
Very comfortable and safe screwdrivers
Convenient grip
Ensure precise performance
Magnetized tips
Different bit sizes
Another handy and useful set of high-quality and durable screwdrivers with magnetic tips will make your work comfortable and safe.
With the help of each tool, you work will become more precise and allow you to reach the necessary result.Each tool offers a convenient handle that ensures a nice grip and does not make your hand tired after a few hours.

Find the set that matches your requirements the best and enjoy a comfortable and safe work.
Hopefully, our review was a decent guide for you and you will easily find the right set that will excellently match your needs and work requirements. Use only tested and recommended tools to make your work an art.