We've all been there: you run into someone at a party or a bar who turns out to be press and aren't ready to pitch.
You overhear your actor or designer explain the show to a potential audience member, and you don't even want to attend.
Prep them this Saturday!
Social Media Boot Camps begin again this week. You can also register for interactive live stream (at least 24 hours in advance).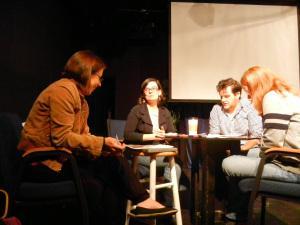 MAR 23 (10am-1pmPT) Pitching Press/Audience *
Special Guests & On-your-feet coaching on how to pitch to both press & audience. I'd highly suggest it for any member of your team, since they all will be in contact with potential audience. Participants also get to keep the video of their coaching session to bring to the team.
Your Special Guests:
Brett Chapin hosts LALA Land talk on LA Talk Live! He'll give tips on approach from both an audience member & Curator/Host POV.
Mary Lansing is a local blogger on lifestyle and the arts in Los Angeles
What We'll Cover:
-Difference between PR, Marketing, Outreach & Audience Development
-Find & Pitch Bloggers & Influencers
-DOs & DON'Ts of Pitching
-Build a lasting Media List
-Bring your elevator speech! Every participant gets a pitch coaching session during workshop
$40 Individuals, $60 to bring a friend
To register: http://www.brownpapertickets.com/event/328935
​​
COMING UP:
MAR 30 (10am-1pm) Reaching a New Audience on Twitter (beginners welcome) - Pay for Workshop
APR 6 (10am-1pm) Standards & Best Practices for Social Marketing
MORE Workshops here
Upcoming Appearances 
Questions in comments!