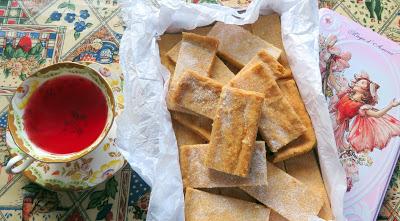 I decided to bake Pitcaithly Bannock today in honor of Scottish Food & Drink Fortnight.  This is an annual celebration of all the best that Scotland has to offer from every corner of the country.  To honor it I chose to share a recipe of Historical import.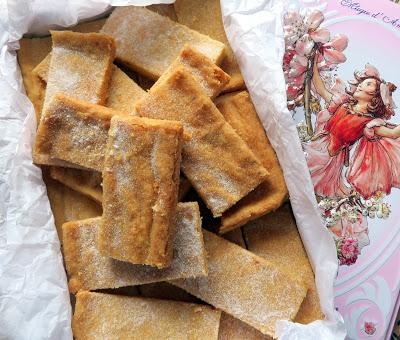 I have adapted the recipe from one in the book Scottish Baking, by Sue Lawrence. I picked it up a few years ago when we were in Scotland.  The original recipe was written by a Margaret Stewart in 1799, so its very old.  She lived in the Manse in Erskine, near Glasgow, where her husband was minister.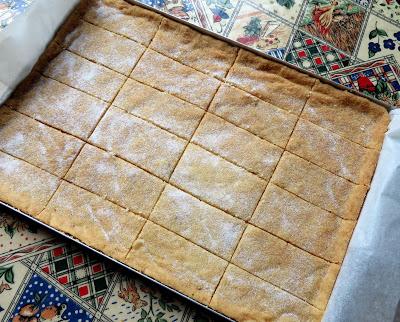 One of my ancestors, Boyd McNayr was born near Glasgow, in the county of Lanarkshire in 1778. His father was a soldier in the Kings Navy and he went with his father to the New World when he was 8 years old, so in 1786.  He was left with a family in Halifax, Nova Scotia, while his father went off to do Navy stuff.  I can only assume he was in a ship wreck as his father was never seen nor heard from again.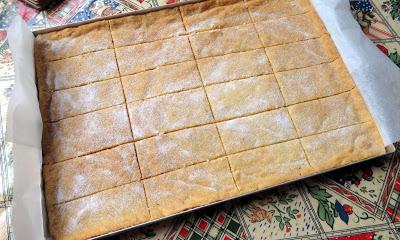 When I saw the dates and origins of this recipe, I was particularly interested.  I can only assume that since Boyd was left with people in Halifax his mother was passed away and that he had no other family.  This must have been a sad little boy who had already faced many challenges in his life.  I like to think that he may have enjoyed slices of Pitcaithly Bannock with his mom as a small child.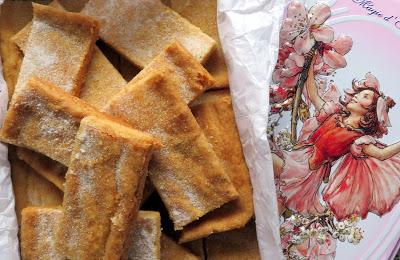 It was known to be a type of celebratory type of Scottish shortbread biscuit, created to be served on special occasions.  The addition of caraway, orange peel and nuts was a very common place thing to do at that time.  Sugar would have been a luxury, and indeed these are not really sweet cookies.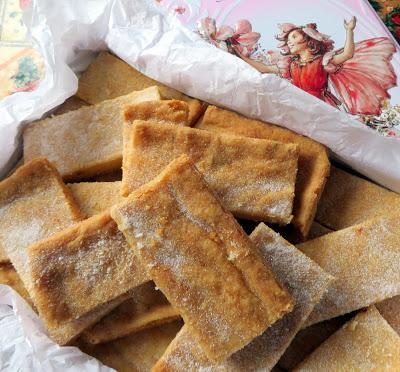 Most of their luxurious flavor comes from the addition of caraway seed and orange zest. Make sure your caraway seed is fresh, or you might just as well leave it out as it won't have much impact.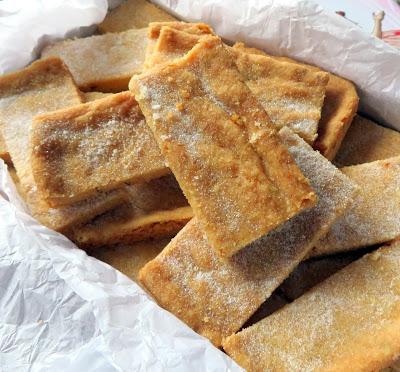 These are wonderfully crisp and buttery, with a bit of a sandy texture from the ground rice/rice flour.   You can make your own rice flour by blitzing raw rice in a food processor until finely ground, or in a spice/coffee grinder.  Easy peasy.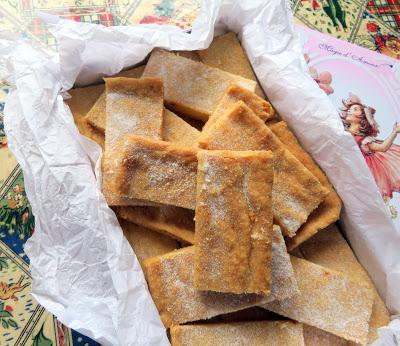 They are very easy to make.  You simply beat butter and sugar together until light and pale in color. I did mine by hand as I don't have an electric hand mixer and I didn't want to drag the stand mixer out from where it is stored.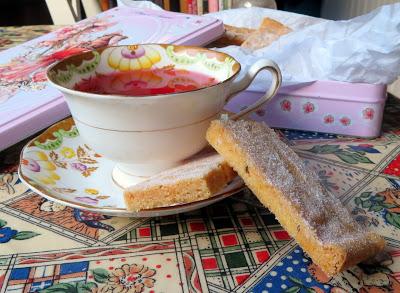 Once you have achieved this you stir in the flour and rice flour, orange zest, caraway seed and a pinch of salt. I would do this by hand.  If it is over mixed you can toughen this delicate mixture.  So best to do it by hand.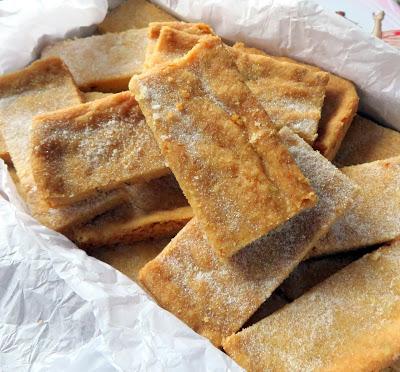 Once the soft dough is done, you press it into a prepared tin evenly, using floured hands. I tried to get it as evenly as I could.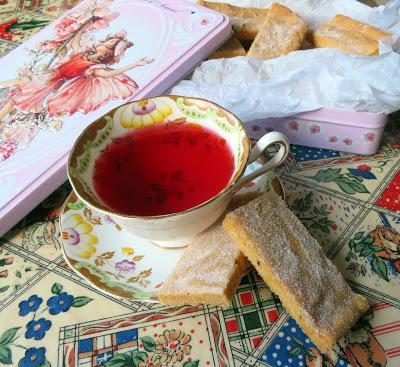 You will need to prick it all over with a fork prior to popping it into a very slow oven.  Don't be too pedantic about the placement of these pricks . . .  they bake out in the baking.  I went to the trouble of making a pattern with the fork and it all baked out, so it doesn't matter what it looks like . . .  just prick it all over with a fork.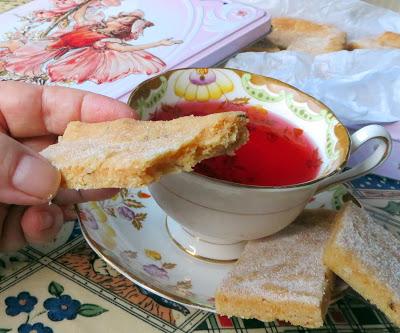 Dust it with more sugar and cut it into fingers or squares as soon as you take it out of the oven.  Once it has cooled it will be too late to do so.  You will be rewarded with beautifully crumbly, buttery, crisp shortbread fingers, wonderfully flavoured.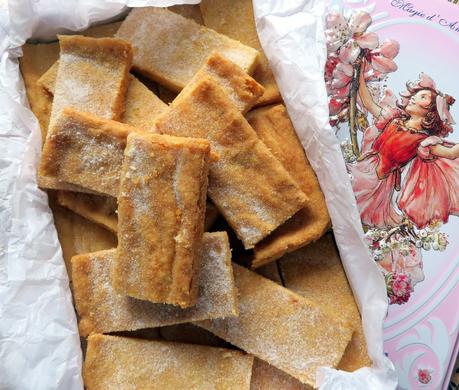 Pithcaithly Bannock
Yield:
Makes 24 servings
Author:
Marie Rayner
A Scottish type of shortbread which was considered to be very festive and would often be decorated with large caraways and orange peel.  You can bake it in a round and cut it into Petticoat Tails or bake it in a Swiss roll pan such as I have done and cut it into fingers.  Either way it goes down a real treat with a hot cuppa!
ingredients:
225g butter, slightly softened (1 cup)
100g golden caster sugar, plus more for dusting (1/2 cup)
200g plain flour, sifted (1 1/2 cups all purpose, less 4 tsp.)
100g rice flour/ground rice (2/3 cup)
pinch salt
1 heaped tsp of caraway seeds
the finely grated zest of a small orange
40g finely chopped blanched almonds (7 1/2 TBS)
instructions:
How to cook Pithcaithly Bannock
Preheat the oven to 150*C/300*F/ gas mark 2.  Butter a 9 by 13 inch Swiss Roll tin and line the bottom with baking paper creating an overhang to help you lift the bannock out of the pan when you need to.
Measure the butter and sugar into a bowl and beat with an electric mixer until pale. This will bake about 3 to 5 minutes. You can beat by hand as well, which will take roughly twice the time.  Sift the flour and ground rice into the bowl. Add a pinch of salt and the orange zest and almonds.  Stir to bring together into a soft dough.  Don't over mix.  Using floured hands press this into the prepared tin in an even layer.  Prick all over with the tines of a fork.
Bake in the preheated oven for 40 to 45 minutes, until uniformly pale golden brown.  Remove from the oven and dust with more caster sugar.  Cut with a sharp knife into squares or fingers.  Let cool in the tin for about 10 minutes before lifting out onto a wire rack to cool completely.
Store in an airtight container.
Created using
The Recipes Generator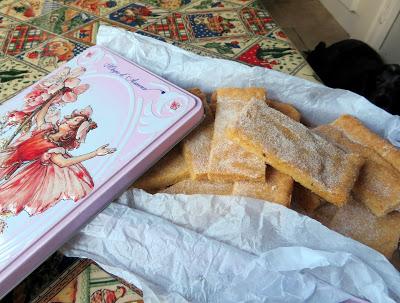 Stored in an airtight container these will keep for days and days.  If anything they get better tasting as the days progress.  They would indeed be very pretty at Christmas time with a bit of icing on top and some sprinkles, or even bits of candied cherry.  In any case, Happy Scottish Food & Drink Fortnight!! 
Up tomorrow: 
London Particular