Pistachio, Lemon & Rosemary Biscotti make the ideal last minute present. Crisp slices of nutty bread, with the surprising kick of rosemary. Keep a loaf of cooked dough in the freezer for emergencies, and never be caught without a gift again.
Total Time Investment: 1 hour 15 mins, plus Overnight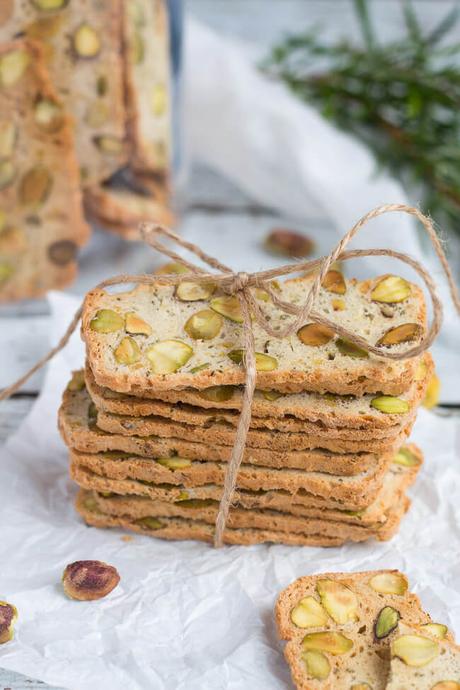 Many years ago, my mum made The Princess an advent calendar, full of little patchwork pockets that need to be stuffed with small bits and pieces. I suggested that maybe this year The Princess was too old for the calendar, in the vain hope I would not have to spend ages combing the shops for little trinkets. My proposal was met with howls of derision, and the calendar now duly hangs in the back room as a vivid reminder that Christmas is well on its way.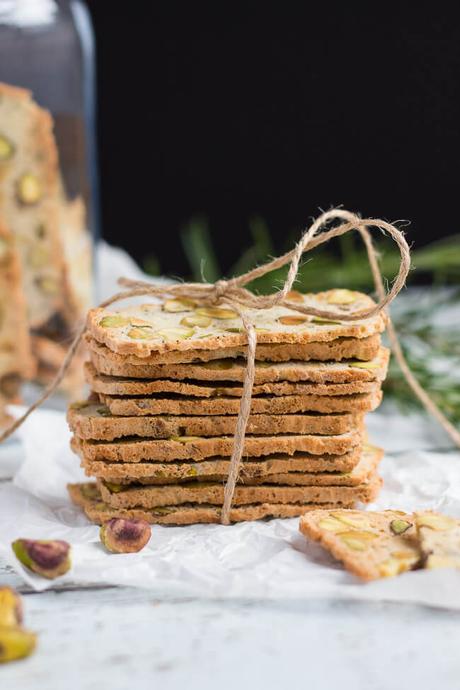 I try very hard not to buy into the commercialisation that surrounds Christmas, and many of my gifts are often handmade. Spice mixes, cookies, and mini Christmas cakes have all featured on my gift list over the years. No matter how organised I think I am, I invariably overlook at least one person, which is why biscotti is possibly my favourite Christmas gift. Each year, at the start of December, I bake a few loaves of this Pistachio, Lemon and Rosemary Biscotti, and my gluten free Chocolate Hazelnut Biscotti, and stash them in the freezer for emergency presents.
Biscotti are twice baked biscuits (or cookies if you prefer), originating from Italy. The biscuit dough is initially baked into a loaf, and allowed to cool completely. The loaf is then cut into slices, and rebaked at a lower temperature. It is this second baking that makes the biscotti hard and crunchy, as the slices dry out in the heat of the oven. The biscotti are done when the the slices are crisp and lightly browned.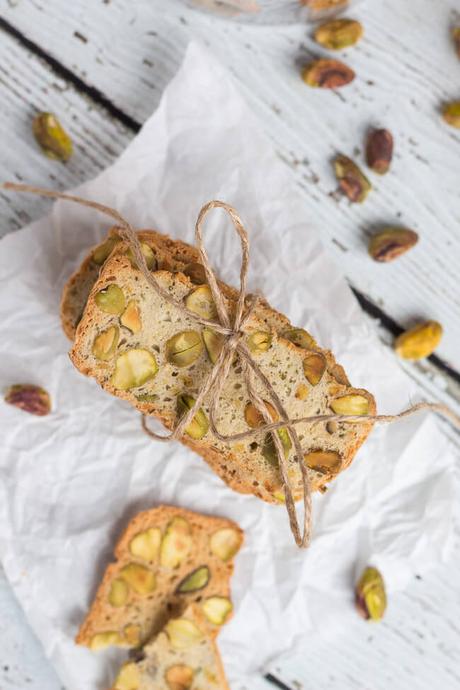 Good biscotti should be made over a couple of days, if the Italian Nonna who made the best almond biscotti I have ever eaten is to be believed. On the first day the loaf is baked, then tightly wrapped in foil whilst still hot and allowed to sit overnight. Wrapping the loaf whilst hot prevents the outside from drying out, and stops it crumbling when sliced. The loaf is cut into wafer thin slices on the second day, then baked at a lower temperature until the biscotti are crunchy.
This two-step process is the real reason that biscotti make the ideal emergency gift. Once the cooked loaf is wrapped in foil and allowed to cool, it can be frozen for up to three months. Defrost the loaf at room temperature, then slice and bake as detailed in the recipe below.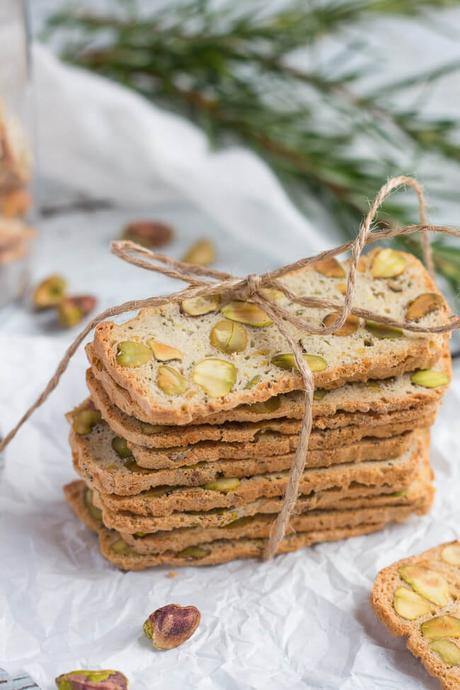 Biscotti will keep for at least two to three weeks if stored in an airtight container. For gift giving, I either package them in a nice tin or wrap the biscuits in cellophane.
This recipe makes a lot of biscotti so that the few you munch on whilst wrapping the presents won't be missed. I won't tell if you don't.
Pistachio, Lemon & Rosemary Biscotti Tips & Tricks
If you are in a hurry, the biscotti can be made in one day. Ensure the cooked loaf is completely cool before slicing.
Freeze loaves of cooked biscotti dough for up to three months. Allow to defrost completely at room temperature.
For best results, use a serrated knife for slicing the loaf.
Store in an airtight container to prevent the crisp slices softening.
Ingredient Substitutions
If you don't have golden caster sugar, use normal caster sugar instead. Your biscotti may be slightly sweeter as a result.
Plain wheat flour can be used in place of the spelt flour.
Replace the pistachios with almonds.
Both the rosemary and fresh lemon zest can be omitted if desired, although the resulting biscotti will be quite plain in flavour.
Looking for more last minute gifts? Check out 21 Homemade Spices Mixes: The Perfect DIY Gift.

Pistachio, Lemon & Rosemary Biscotti
* This post was originally published on 2nd December 2013