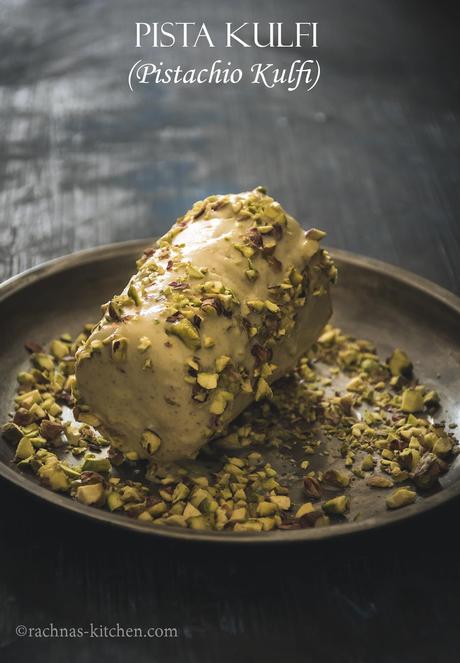 Pista Kulfi is a traditional frozen dessert like ice cream belongs to India. Traditionally Kulfi is prepared by evaporating sweetened milk cooking on slow heat for long hours until it thickens. Then semi-condensed mix is frozen in tight sealed moulds. It is believed that this frozen dessert originated during Mughal empire (northern India), in the 16th century.
Now a days preparing kulfi at home is much easier and faster. It is usually made with condensed milk, flavored with cardamom, topped with chopped almonds and pistachios.
Kulfi has similarities to ice cream in appearance and taste; however it is denser and creamier. It comes in various flavors. The more traditional ones are cream (malai), rose, mango, cardamom (elaichi), saffron (kesar or zafran), and pistachio.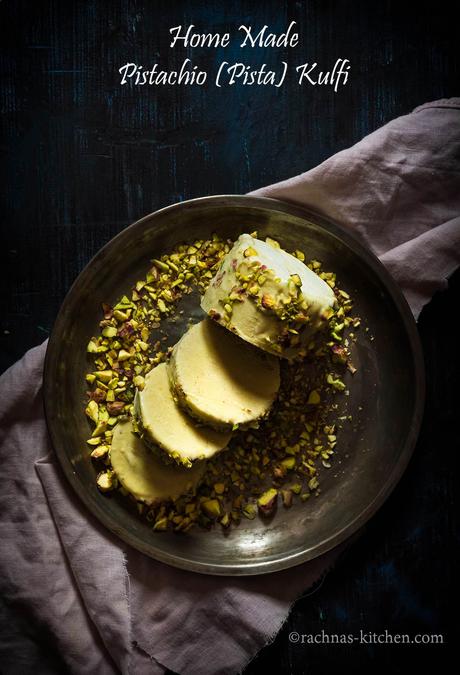 It's a delicious dessert and can be made in advance if you have a large number of guests coming to your home. It is easy to make and delicious in taste.
Today I am sharing pista kulfi also known as pistachio kulfi. I have used chopped pistachio as well as grounded ones. Let's go through the recipe.
Ingredients
*measurement for cup used, 1 cup = 250 ml
1 litre full fat milk
200 ml or 1/2 can condensed milk
1 tsp cardamom powder
10 strands saffron (kesar)
1 tablespoon pistachios (chopped)
3 tablespoons pistachios (grounded)
3-4 drops Kewra water or Rose essence(optional)
Step by step pista kulfi
Step 1. Place a heavy bottom sauce pan on a medium heat. Add milk and let it come to a boil.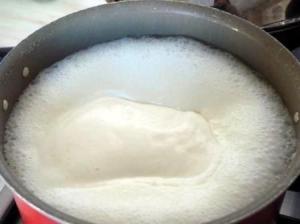 Step 2. Take 2 tablespoons hot milk from sauce pan in a bowl and soak the saffron strands and set aside.
Step 3. Once milk comes to boil, reduce heat and let the milk simmer uncovered, stirring continuously with a silicon spatula.
Step 4. Cook the milk for about 8 to 10 minutes till it is reduced and become thick in consistency. Be sure that you stir it continuously.
Tip - This is essential to stop the milk from scorching and to prevent skin forming on the milk.
Step 5. Add the condensed milk and stir vigorously to mix completely.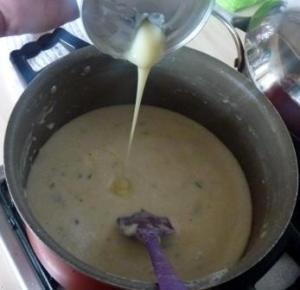 Step 6. Add soaked saffron to the milk mixture while milk is still on heat and mix.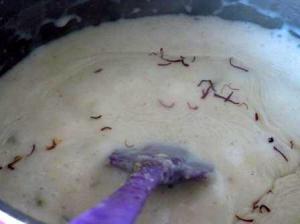 Step 7. Add the pistachio powder and green cardamom powder . Mix it well.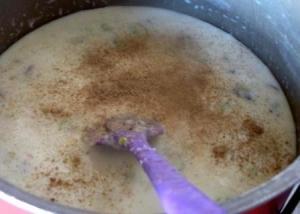 Step 8. Now switch off the gas. Add the kewra essence or rose water. Leave the kulfi mixture on kitchen counter to cool off completely.
Step 9. Then pour into kulfi moulds and secure the airtight caps. Freeze in refrigerator freezer for 4-6 hours. Take out of the freezer 5 minutes before serving. Unmold the kulfi and serve with chopped pistachios on top.
I am sure if you try it, definitely you will love it, not just because of taste but also the easiness of this recipe.
Enjoy!!
Recipe card - Pista kulfi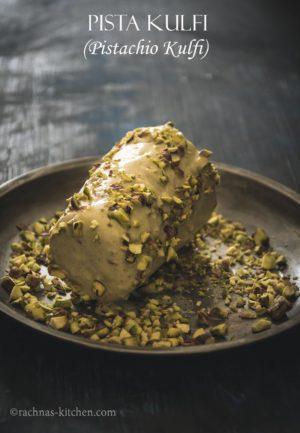 If you are looking for some other summer recipes, you may like
1. Chocolate avocado ice cream with Nutella swirl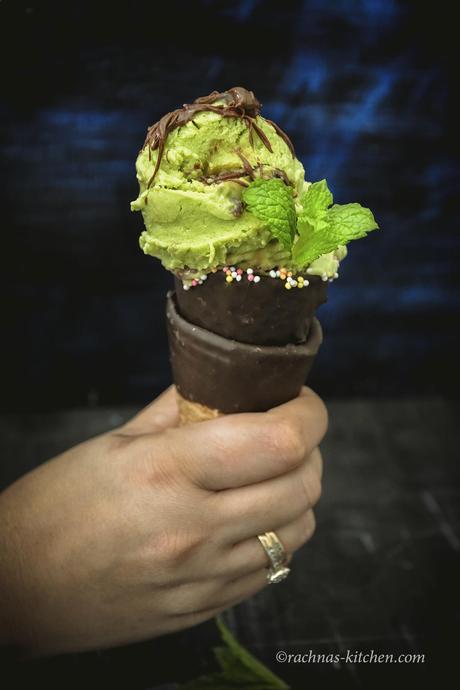 2. Healthy Mango lassi