In Eastern wisdom, the content of space is called Akasha. The impressions of the past cycles of life are recorded in the 'Akashic records', a kind of subtle photography. In 'Spiritual Astrology', Pisces represents this 'tablet of the universe' on which an initiate can read the past, present and future of the whole creation. Pisces also preserves the information about the human frame and its relationship with the frame of the cosmic man, which is hidden in the depths of our consciousness.
To illustrate the opening of the sacred content of space with its subtle records, I used an image of the stained glass windows of a Gothic cathedral, which I transformed and duplicated. For the cosmic man I extracted from an Indian painting the face of Ishvara, the Master consciousness of the universe and in our own being. On his forehead, you see the path of light connecting the pineal and pituitary – the representatives of the two fishes of Pisces. And above there is the crown of the head centre.
Below, I placed the "blue marble" of our Earth as the sphere of our life. I super-imposed the image of an embryo, symbolizing that our frame is made in the image and likeness of the cosmic man and that it is in a process of unfoldment.
Pisces is ruled by Neptune, who helps us to merge our lower consciousness (personality) into the higher consciousness or group-consciousness. I used a photo of Neptune to create the background of the image and to give it the mystic note, for Neptune is the soul of our solar Logos and is linked to the cosmic soul of our universe.
See more pictures on the site with my paintings. If you want to print the image, you can download the file in medium and high resolution format.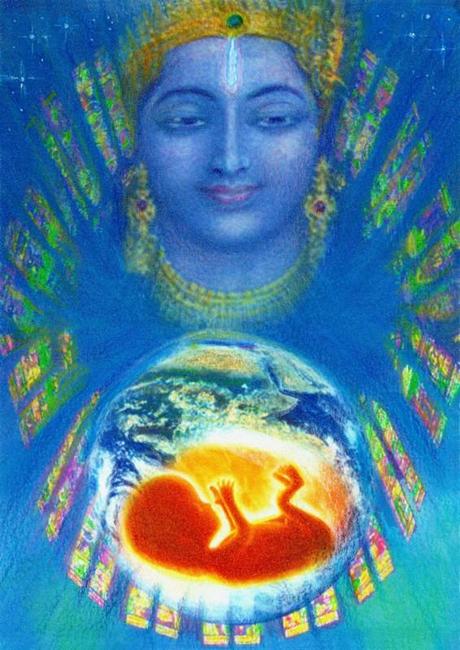 17 November 2014, pencils and photo work