Pisces symbolizes the eternal flow of energies. It is a cyclical movement in which the energies come down into the objective manifestation of creation; they develop and finally dissolve again to give way for new manifestations. This is called the movement of the waters of life. We can visualize it as a circular flow of water. It is also regarded as the wheel of creation, the descent and ascent of manifestation. This subtlest form of water is called spiritual waters or electric fire.
During some weeks of November and December 2018 I was in a rehabilitation center in the Bernese Alps to recover from a cerebral bleeding. From my room there, I was looking over the Lake Thun to the Mount Niesen. The air was full of vibrant vital energy. The mount with its prominent pyramidal shape seemed to be an epitome of matter rising towards the spirit and spirit descending towards dense manifestation. The meeting of spirit/space and matter culminates in the nightly light on the top of the mountain. The lake and the lights of the town of Spiez at its foot receive the vastness of space and reflect the cosmic fire.
At the top of the image I put the arc of a nightly rainbow as a portal towards space. I increased the light spot on the mountain top and surrounded it by a sphere of light penetrating matter. I duplicated the reflections of the city lights to form an embrace. Then I covered the whole picture with a photo of a downpour of water from an old fountain.
See more pictures on the site with my paintings. If you want to print the image, you can download the file in medium and high resolution format.
The different zodiacal signs are clustered in groups – you can see here all my Pisces paintings.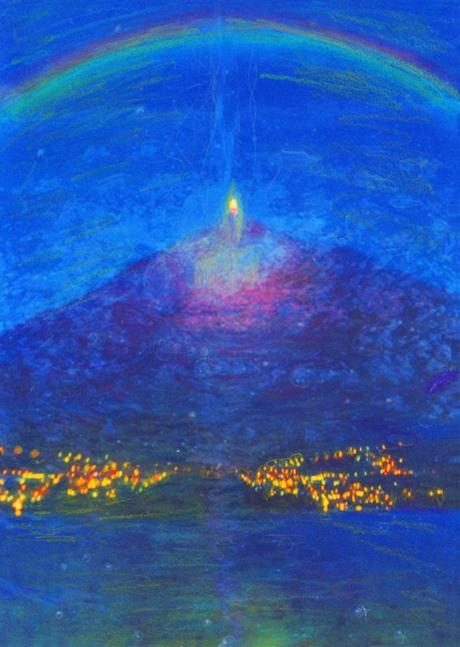 The video: