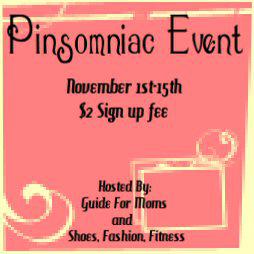 Pinterest is the NEXT BEST THING for us bloggers! With Twitter wanting to get rid of a follower count AND Facebook penalizing us advertisers... what is a blogger to do???
PINTEREST that's what! So lets increase our Pinterest following!
This fun Pinterest event is hosted by Amanda from Guide for Moms and Jessica from Shoes, Fashion, Fitness. We are hoping to increase your following and your interaction!
Entries will be to follow you on pinterest and to re-pin something from a designated board, like this one. You can pin whatever else you would like re-pinned to that board!
Dates:
November 1st - 15th
Cost:
$2 for your Pinterest Link
The prize will be paypal cash and the amount will depend on signups. There will also be a referral prize for whoever refers the most people, that person will receive their link for free!
If you are interested in increasing your pinterest followers FILL OUT THIS FORM! Pinterest is huge right now, let's use that to our advantage and giveaway some CASH!