A few lines into her song, Pinky Marquez stops, begs her audience's indulgence and says she must start again because she was thrown off by the hideous static. Amid laughter and cheers, she doubles back and finishes her number with aplomb. Watch:

This was at the presscon for the Repertory Philippines and Stages collaboration Peter Pan--A Musical Adventure, which makes its Asian premiere on September 29-October 30 at the Meralco Theater. Singer-actor-TV host Sam Concepcion plays Peter Pan, while veteran actor-director Michael Williams is Captain Hook.
Peter Pan has new music by George Stiles and Anthony Drewe and the late Willis Hall. George Stiles says: "...The score for 'Pan' is one of our favorite pieces of work. It's a show with a stunning world of pirates, Lost Boys, Mermaids, Crocodile and flying children!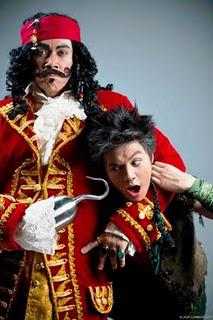 The score revels in being able to blend the great British traditions of Gilbert & Sullivan with a contemporary world of dreams and adventure. I think Anthony's lyrics really shine and have the same delight in the language that so infects the Barrie play--they were a joy to set.
For a second before you go to sleep tonight take a moment, close your eyes and imagine, fly and visit your other land where the child never never grows up..."
Aside from Sam, Pinky and Michael, other cast members include Cara Barredo and ABS-CBN talent Tippy Dos Santos (alternating as Wendy Darling), Nacho Tambunting (John), Juan Miguel Santos (Michael), Robbie Zialcita and Kyla Rivera.
Peter Pan is directed by Jaime Del Mundo and Menchu Lauchengco-Yulo, with musical direction by Jojo Malferrari, choreography by Deana Aquino, set design by Gino Gonzales, costume design by Raven Ong and lighting design by John Batalla.
Contact 5716926 and 5714941 or email [email protected] Tickets are also available at Ticketworld 8919999 or www.ticketworld.com.ph. Visit www.repertory.ph, subscribe to youtube.com/repertoryphils and add "Rep Phils" in Facebook.