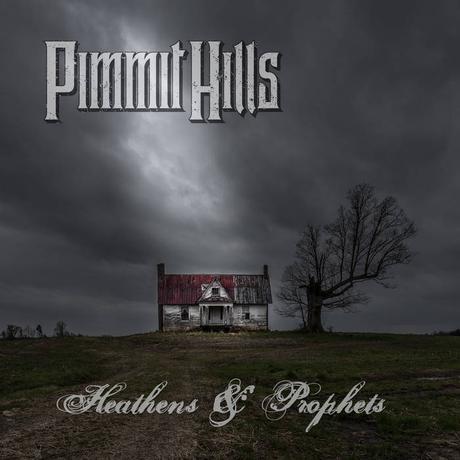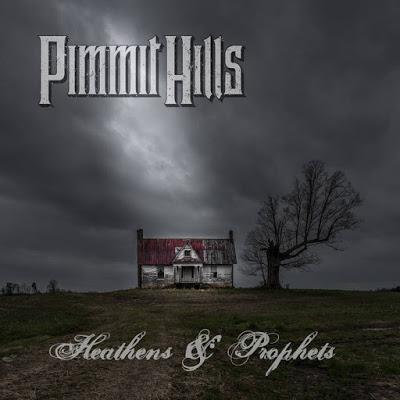 This is such a special release to me, folks. Pimmit Hills rose out of the ashes of the brilliant King Giant, a band that, to keep a long story short, brought my wife and I together. So when they called it a day yours truly was distraught to say the least. However, upon receiving news that the guys were back, albeit under a new guise and working on their debut, it jolted my senses and that eager anticipation to hear this new band settled in quickly. Was it worth the wait? Hell yeah!
Comparisons to King Giant are inevitable to make since Pimmit Hills were that band, and sound like them to an extent. The guys hold on to the former's excellent narrative skills and the way they paint pictures, in lack of better words. But that's the brilliance of the members, whatever they do is fantastically crafted, uninhibited and free flowing, just like all music should be. No restraints and a pure joy to listen to. And that combination of old and new which comes out of this ties it all together, hence making 'Heathens & Prophets' the brilliant recording it is.
Each song could be a brilliant crime novel in it's own right. Sounds strange? Not at all, if you ask me. Pimmit Hills has a wonderful knack for southern darkness and being the great songsmiths and storytellers they are, as the four songs follow the sleazy, sludgy and violent way of the great American crime writer, James Lee Burke, mixed with their own tales, incredible stories are told.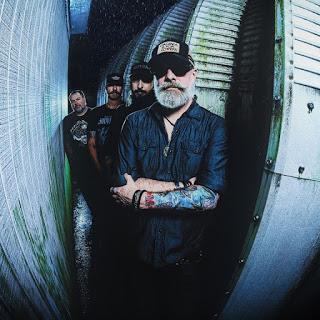 Opener 'Baby Blue Eyes' has a very nice Clutch-groove with supertight drums, a thick-sounding thumping bass guitar and riffs out of this world akin to the Marylanders. J.Robbins, who mixed 'Heathens & Prophets', lays down some pretty deft tones on the keyboards as well (which he does on the first three songs), which adds perfectly to the atmosphere. Halfway through this whiskey-guzzling, smoke-inducing and debauched barroom skullcrusher, Pimmit Hills launches into a jam session a la The Allman Brothers. Excellent, indeed! 'Ginger' follows, albeit a touch slower, this crime ridden masterpiece tells the tale of a vicious female killer - could it be Baby Blue Eyes from the previous song? - and her gullible, lovestruck boyfriend. By the time his vision clears she has him implicated and there's no way out for him. Like the predecessor, 'Ginger', has a rockier and grittier beginning while the second half flows free around the guitar solos and I absolutely love it! Sleazy, dirty and bleak, 'Lost River' is about a kid who goes missing and his remains or whereabouts are never uncovered. The chorus hits like a sledgehammer while the verses are slower and melancholic until the band throws off the chains around the solos…again. Love how they build up their songs, it's stunning! 'Beautiful Sadness' ends this brilliant debut and is built around some mean riffs and the hi-hat. As the verses move towards the chorus the tempo picks up slightly as the entire band joins in. Just before the 3-minute mark they change tone and tempo which leads into some freeflowing badassery while Ingram tears it up on the guitar. Greatness indeed, as I am basically lost for words. '…can't see all the blood through all that rain'.
Todd Ingram steps up and is truly a guitar wizard. I have never doubted his skills but in Pimmit Hills he handles all the six-string parts and man, I am floored! In a sense it reminds me of Thin Lizzy when they recorded 'Bad Reputation'. Brian Robertson was gone, leaving Scott Gorham to do all the guitar parts except for a few when Robertson eventually returned. Gorham rose to the occasion and showed what a great guitar player he is. And that's what I'm getting at with Ingram. He does it all on 'Heathens & Prophets' and holy hell, he is fabulous!
Don't get me wrong though, this isn't a one man show because the entire band is untouchable. Dave Hammerly's voice is a one of a kind and elevates the storylines like no one else could. Floyd Walters bass playing is varied but so cohesive and on point allowing him to step out of the box and take off on runs all while laying down such a backbone. Keith Brooks, drummer and joint producer with Ingram, is the rock keeping it all together allowing the rest of the band to venture down all kinds of avenues as they let it all hang down. Don't miss out on 'Heathens & Prophets', dear waveriders. This is as damned great as it will ever get and you really need Pimmit Hills in your lives.
-Swedebeast
*Band Photo Courtesy of Shane Gardner