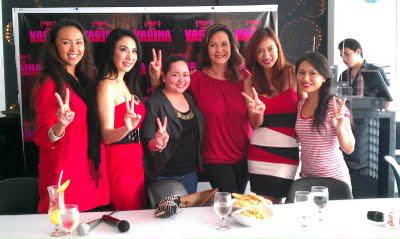 Actress and former beauty queen Pilar Pilapil was allegedly abducted by two armed men and stabbed at least five times before dumping her in a grassy lot in Antipolo City, police said. Senior Superintendent Manuel Prieto, Rizal provincial director, said Pilapil, 60, was now confined at the Medical City Hospital in Pasig City but her medical condition was unknown. (Full report here.)
Shocking--but doubly shocking to us who, just yesterday afternoon, had met and talked to Ms. Pilapil during the presscon for a new production of The Vagina Monologues, scheduled to run April 29-30, 8 p.m., at Teatrino, Greenhills. Ms. Pilapil would have led a coterie of actresses from TV, movies and the stage for this nth staging of playwright Eve Ensler's signature work--among them Giselle Sanchez, Kalila Aguilos, Angeli Bayani, Mailes Kanapi, and two former Pinoy Big Brother housemates, Princess Manzon and Rica Paras.
A work long identified with Monique Wilson's New Voice Company, which had mounted several editions of the monologues over the years, this year's TVM is being produced and directed by MiaDulce D'Bayan, a former US-based concert pianist who has directed a number of small productions for a local performing arts group, and who also co-produced Gil Portes' Cinemalaya award-winning film, Two Funerals.
Mia said she was inspired to apply for the license to re-stage The Vagina Monologues after a close friend of hers showed up black-and-blue from her boyfriend's beating. In varying degrees, many in the cast, she revealed, have also had the occasional scary brush with violence, battery and discrimination. Proceeds of this Vagina Monologues will go not only to Ensler's worldwide V-Day movement against violence directed at women and children (this year's spotlight is on the women of Haiti) but also, and more urgently, said Mia, to the Women's Crisis Center-Manila.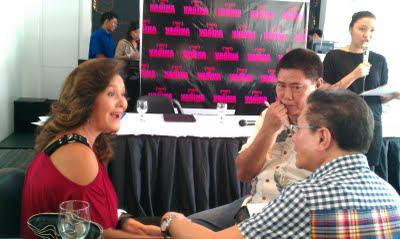 Ms. Pilapil being interviewed by veteran show-biz watchers Mario Bautista and Ricky Lo
Ms. Pilapil, along with the other actresses present, read excerpts from their assigned monologues, then talked about how and why they got involved in the project. It bears stating--Ms. Pilapil is not only beautiful and elegant in her 60s, she is also articulate and opinionated. To a question from the floor--but, man, how moldy could this line of questioning be?--whether men are ready to see women talking straight about their vaginas, Ms. Pilapil quickly and loudly retorted, "They should be! Even before they touch a woman, they should know what their responsibilities are, what it is they're getting into!" Or words to that effect.
What horrific irony, then, that merely hours after talking about the need to fight violence against women, she'd end up robbed, mauled, stabbed and left for dead by still-unidentified men. While she's now recuperating at the hospital, there's been no word about whether The Vagina Monologues itself would push through, as Mia herself said on TV that what's important right now is space and privacy to allow Ms. Pilapil to recover fully. (We'll post updates as they come.) Our prayers are with this brave woman and her family.
Here is Ms. Pilapil, vibrantly alive, doing an excerpt from her monologue, I Was There in the Room, about a grandmother's thoughts as she watched the birth of her grandchild. The TV newscasts, as is their wont, could only show seconds-long snippets. This is her complete moment.