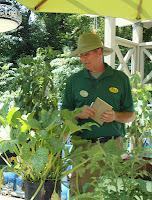 There are few things better than spending a beautiful Spring day playing in the dirt, but Pike Nurseries added to the fun by teaming up with Concentric Restaurant Group to create a one-of-a-kind, gardener-meets-foodie experience. This Garden to Table Chef Event was held at all Atlanta-area Pike Nurseries and featured presentations by gardening associates from Pike Nurseries on vegetables and herbs and how to plant them. These instructional sessions were followed by cooking demonstrations by local chefs from Concentrics Restaurants like One Midtown Kitchen, The Spence, and Room at Twelve.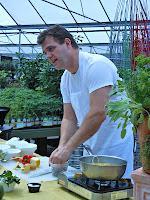 At the Toco Hills location of Pike Nurseries, Ian Winslade, Executive Chef of Murphy's in the Virginia-Highland neighborhood, made a quick fresh vegetable soup with handmade basil oil. His easy-going manner and charming British accent added to the allure as he casually chopped vegetables and explained how he makes his basil oil, "First I blanch the basil leaves, shocking them in ice water after a few minutes in the boiling water. Then I squeeze the leaves to remove as much water as I can and put them in a blender with olive oil and blend for 5 minutes until hot." He is a huge proponent of "farm-to-table" cuisine as evidenced by his healthy and easy recipe for garden fresh vegetable soup.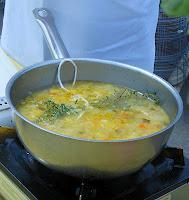 Garden Vegetable Soup:
1 tablespoon olive oil
1 medium onion, diced
2 carrots, finely diced
1 stalk of celery, diced
1 red bell pepper, diced
1 Yukon Gold potato, diced
1 yellow squash, diced
Sea salt
1 quart vegetable or chicken stock
½ cup white wine (heated and reduced by half)
Fresh beet leaves, Swiss chard, or kale, julienned
1 bouquet garni
Basil oil for drizzling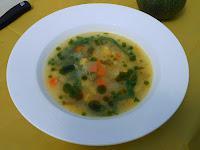 Carefully wash and peel vegetables. Heat olive oil in a saucepan and begin sweating the onions, carrots, and celery. Then add potatoes, bell pepper and squash and simmer until tender.
Season lightly with salt and then pour in stock and infuse with an herb bouquet (fresh herbs tied with kitchen twine and steeped in the soup like a tea bag).
Simmer for about 10 minutes and then remove the herbs and add the white wine reduction stirring to mix well. Remove pan from heat and add julienned greens. Serve into soup bowls and drizzle lightly with basil oil and serve immediately.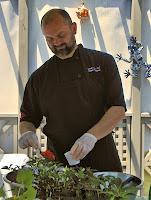 Several miles away, Cameron Thompson, Executive Chef of popular Midtown restaurant TWO urban licks, was preparing his signature Yellow Tomato and Watermelon Salad at Pike Nurseries' Lindbergh location. Even in the mid-day sun while wearing a black chef uniform, he looked as cool as his salad as he showed on-lookers how to emulsify a chili vinaigrette. He then demonstrated his technique for slicing and preparing fresh zucchini carpaccio. Both recipes are perfect for warm-weather antipasti or summer salads.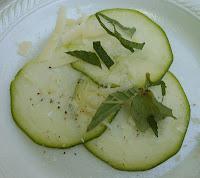 Zucchini Carpaccio:
3 medium zucchini, very thinly sliced
Kosher salt
Freshly ground black pepper
Olive oil for drizzling
Freshly-squeezed lemon juice
Parmesan-Reggiano, grated
Mint leaves, finely julienned
Using a mandolin, slice the zucchini squash into thin rounds. Place zucchini slices in a bowl and lightly salt and pepper, then drizzle with olive oil and fresh lemon juice. Mix very gently, just enough to coat each zucchini slice, and let sit for 5-10 minutes. Once softened, remove each slice and lay it gently on the serving plate, overlapping slightly. Sprinkle a bit of grated Parmesan over the zucchini and garnish with julienned mint leaves.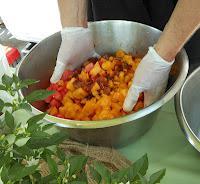 Chili Vinaigrette:
5 oz. Ancho chilies, toasted and ground
2/3 cup sugar
3 tablespoons rice wine vinegar
1 teaspoon Dijon mustard
1 teaspoon salt
2/3 cup vegetable oil
Up to 1 cup water
Place chili pepper and sugar in a blender and blend together. Add vinegar, mustard and salt with a ¼ cup of the water and blend to mix. With the blender running slowly add oil and another ½ cup of the water until fully incorporated. Check the dressing; it should have the consistency of Heinz 57 sauce. If the dressing is too thick, slowly add the remaining water until the right consistency is achieved.
Tomato and Watermelon Salad with Chili Vinaigrette: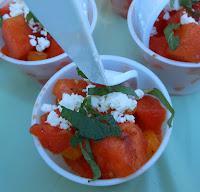 2 cup yellow tomato, diced
2 cup watermelon, diced
Chili vinaigrette (recipe above)
¼ cup feta cheese, crumbled
Fresh mint leaves, julienned
Place diced tomatoes and watermelon in a mixing bowl, then add ½ cup of chili vinaigrette and toss to coat. Add more dressing as needed (or desired) to coat well. Top the salad with crumbled feta cheese and julienned mint leaves.
With these amazing recipes it should be easy to enjoy the fresh fruits of Spring!