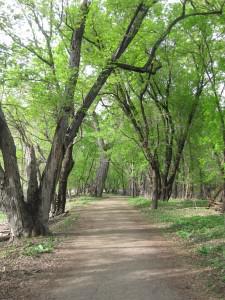 One of our favorite places to go and walk around with Stella is Pike Island out at Fort Snelling State Park. It received 'Best Urban Hike' over on CityPages in 2011 and we'd have to agree; the place is pretty sweet. The scenery is awesome, there's a little beach (depending on how high the rivers are) where the Minnesota River and Mississippi River come together and we always see deer roaming around. One of my favorite parts about the whole area…although you're technically in city limits, you feel as though you are miles and miles away from all the hustle and bustle. We maybe cross paths with a handful of other people each time we're there. It's like a secret hang out spot that only the cool kids know about.   If you want to check it out, here's a map of the route to get there.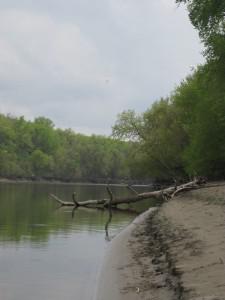 It's an easy 4 mile-ish walk around the whole island and a must if you're just looking to get away for a bit and be outside. There's a flood post (I just made that term up…don't know if that's what they actually call it) but to get there you cross the bridge over to the island, take your first right and when you get to the corner you'll see a white post on your left that has a line showing you how high the water was and what year it happened in. It's crazy to think that the water levels there have risen that high!Or maybe I just think these things because I'm part nerd, part outdoors lover. Random tidbits of information are my thing!
On that note…happy hiking friends!
Sarah