This year, due to the haze and my asthmatic cough, I lost the mood to make mooncakes despite getting all the ingredients together.
Was down at Taka for an errand the other day, and I noticed that not as many stalls participating as before.
Like those truffle mooncakes that I shared in 2011, many people wrote to me asking me where I bought it.  Ingredients are also getting easier to purchase these days and thus home made are getting popular as well.
As mom is inviting us over for this Mid Autumn Festival celebration, I think it will be nice to bring some over for them.  (By the way, I heard so often kids calling this festival as Mooncake Festival which is wrong)
So today, to start off, I will attempt 猪笼饼 which is something that my son and my sisters loved.  (I hope they still do). 
The ingredients are really simple and easy to put together.  So you can try this for next year.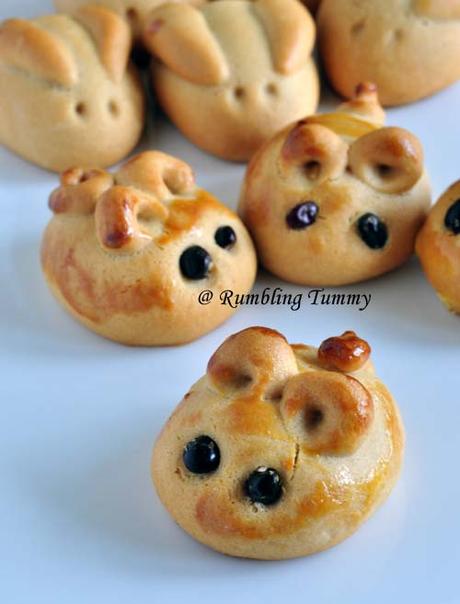 I couldn't find my fine brush for the egg wash and thus you can see my piglet is suffering from some skin disease. 

Also I think I lost my touch on figurine molding. Haiz.... out of practice.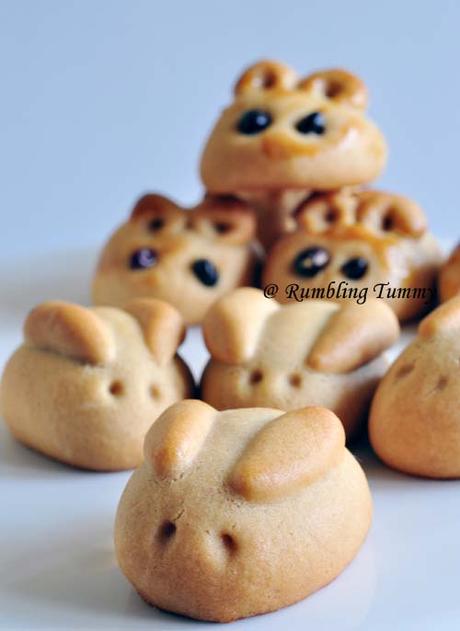 I have saw a really cute bunny cookie selling at the basement of Taka and since Mid Autumn Festival also has a bunny story.  I thought it will be fun to have some bunnies around.
This recipe will be great to do with kids.  I remembered my mom used to tell us stories about 嫦娥 Cháng'é while we are eating mooncake and admiring the round moon.  Each trying to find the bunny as the weather is usually very clear on this night.  
Then again, I didn't think Mr Armstrong find 嫦娥 Cháng'é or the bunny during his trip up there.

Findings: This is a really nice recipe.  The cookies is not overly hard and yet has a nice fragrance to it.

I baked two batches but testing at different temp.  I find that at 170°C in the airfryer, cookie will cracked.
Adapted: Siu Kitchen
What you need:
yield 
100g Hong Kong f|our
60g golden syrup 糖漿
1 tsp alkaline water 食用梘水
20g bran oil
Method:
Add alkaline water to golden syrup and mix well.
Make a well in the flour and pour in the golden syrup mixture.
Add in the oil.
Slowly bring the flour into the center and mix well.
Once liquid mixture is mixed into the flour and a dough is formed.
Knead dough until flour is well incorporated.
Clingwrap and let it rest for an hour.
Now you are shaped your piggy.
Greased baking plate, place shaped dough onto the plate and bake at 160°C for 6 mins.
For egg wash, after brushing bake it for another 1 min
Now let's have some fun.