London 22:11:16 13:05. DC Editor Adam writes...
The readership of The Daily Constitutional is split almost 50-50 between UK-based readers and those from elsewhere.
I sometimes think that our overseas readers must click onto our blog, or look over the national garden fence, and sometimes scratch their heads and say, "What the hell are they up to NOW?"
Today is one such time, given that we are in the midst of the most whopping great Marmalade Dropper in living memory.
A Marmalade Dropper is an old Fleet Street term - Fleet Street persists in its role as metonym for the business of British newspaper publishing, despite the fact that not one national newspaper has called Fleet Street home for years.
A Marmalade Dropper is a news story so shocking and lurid that it will literally make the breakfast fall from your grasp. The Daily Telegraph, that bastion of the right wing establishment, is famed for its marmalade droppers and usually places them beneath the fold on page one.
Ingredients for the perfect marmalade dropper can vary but the best would include any one or combination of the following: money, the class system, crime/dishonesty, a fall from grace and a liberal dose of schadenfreude. They should always include a sexual element.
The marmalade dropper of the moment is a lulu.
Sex is in the mix alright - but a three-letter word seems inadequate to cover accusations of bestiality and necrophilia - if, indeed, necrophilia can be applied in a case where the victim is a farm animal.
Best of all, it stars English toffs behaving like complete whack jobs. Everyone loves that.
The accuser is a Peer of the Realm, Lord Ashcroft (who - guess what? - is flogging a book) and the fellow who "took to pig sticking in quite the wrong way" (thanks there go to Noel Coward in his wonderful lyric I Wonder What Happened to Him?) is no less than the Prime Minister David Cameron.
The story so far... While at Oxford University, the future PM, as a member of something called the Piers Gaveston Club, is said to have placed "A private part of his anatomy" (as it is described in Ashcroft's book) into the mouth of a dead pig in a bizarre ritual of membership.
Here's how The Daily Mirror covered it this morning...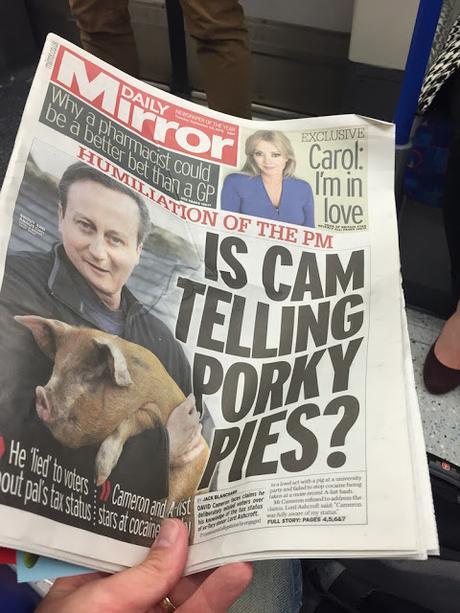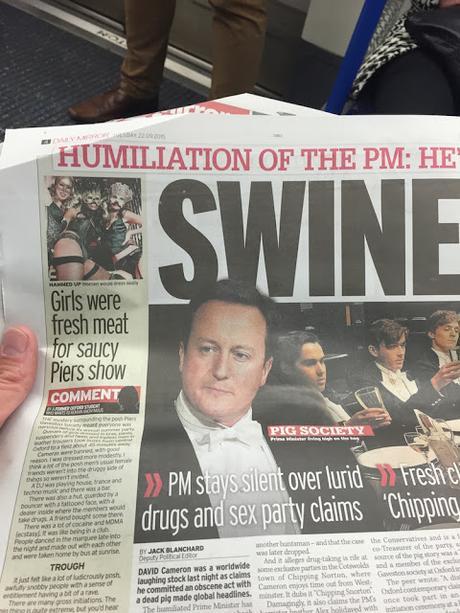 The Prime Minister has, so far, kept his mouth shut. Unlike the poor pig in the story. Are we to be denied the spectacle of a press conference featuring the line, "I did not have sexual relations with that pig"?
Last word goes to The Daily Mail, calling our attention to the fact that the accuser funded Cameron's campaign to be PM in 2010, but Cameron failed to deliver an out-and-out Tory victory; nor did Cameron offer Ashcroft a role in high government.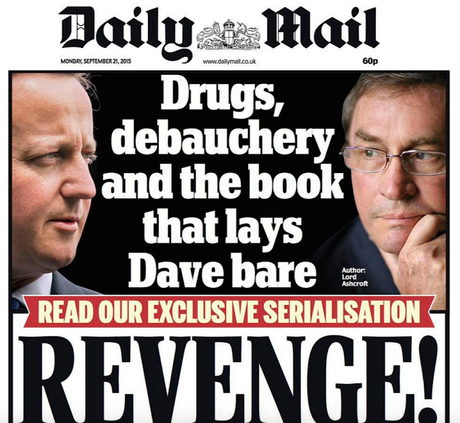 Revenge, it would seem, is a dish best served with apple sauce.
A London Walk costs £10 - £8 concession. To join a London Walk, simply meet your guide at the designated tube station at the appointed time. Details of all London Walks can be found at www.walks.com