I was honored to be asked to be part of Pier One's Blogger Fall Makeover challenge. They sent me a $250 gift card which I used to makeover the living room of one lucky homeowner. Keep reading and we will tell you how you can win a $50 gift card to create a little makeover of your own!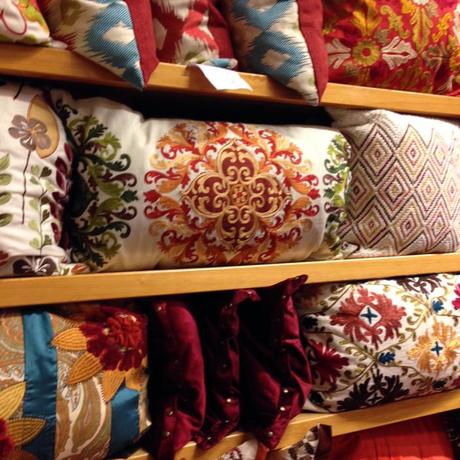 I started my fall makeover plan with these beautiful graphic pillows. I chose a design that would interject some warmth into a living room currently filled with lovely cooler hues. I grabbed some soft chenille solid pillows and some scented candles to repeat these warm colors around the room.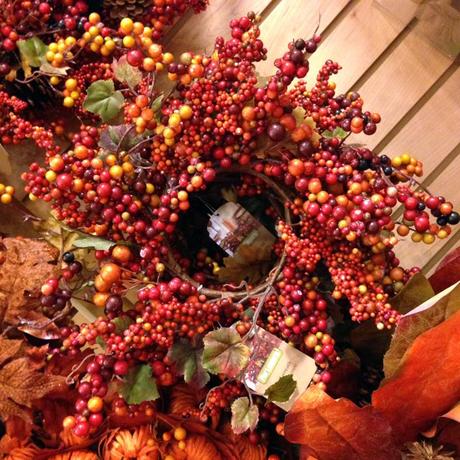 Then I added a couple of decorative wreaths to serve as the base for the candle. I love this idea because you can change the wreaths to fit the holiday.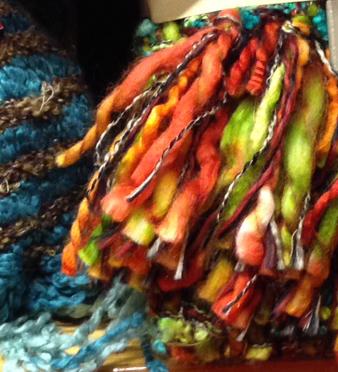 And to this mix I piled on a throw to add some lovely texture. When I am accessorizing a room I always pick up a little more than I think I will need so that I can fill in the unexpected spot or substitute if something isn't working the way I had hoped. My pile was complete!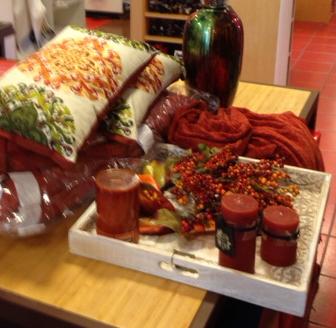 My client's home has a lovely open living room that is comfortably furnished for everyday use. She was skeptical that I could introduce another color into the space but the trick to adding something that does not currently exist in the decor is to use it in several ways. We wanted a warm autumn orange that would pop with the blue and green already there.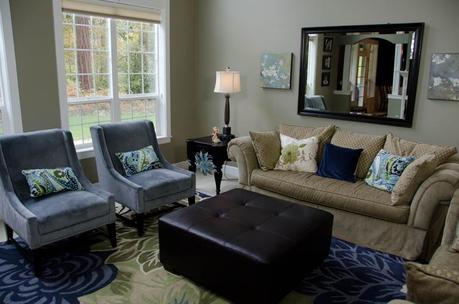 The mantel was also a blank canvas for some great holiday touches. Luckily, the homeowner was entertaining the next day so I could add fresh flowers to my fun Pier One finds which I think brings any room to life.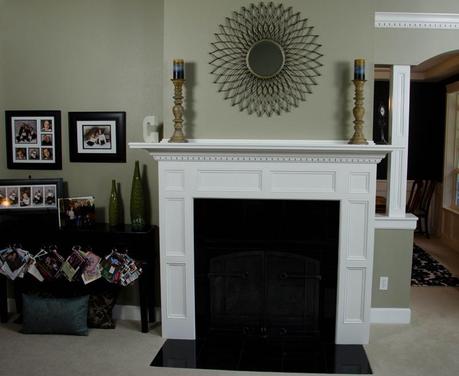 Here is the mantel all dressed up for party time. I changed the candle holders to a darker color so that they stand out against the wall and tie in with the black marble. I also love using a few worn books in the winter to add a cozy touch and add differing levels of height for interest. Our warm candles, the lovely silver pumpkins, and a couple of fall leaves from our shopping trip mix perfectly with some fresh flowers and mini pumpkins.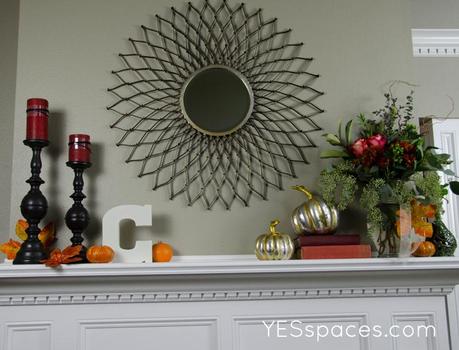 In the seating area I replaced the pillows in the blue chairs with graphic pillows that tie the autumn orange in with the already bold area rug. I also used the solid chenille pillows on the sofa and love seat to continue the color around the room.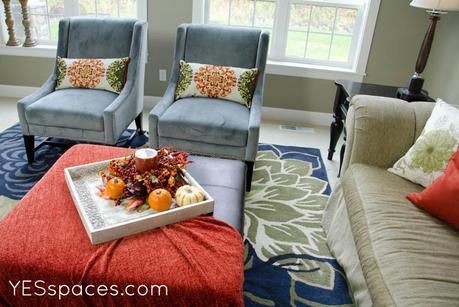 I added color to the ottoman with the throw and topped it with a great white tray that can stay in the room year round. My client can change the decor with the season or just use it for drinks.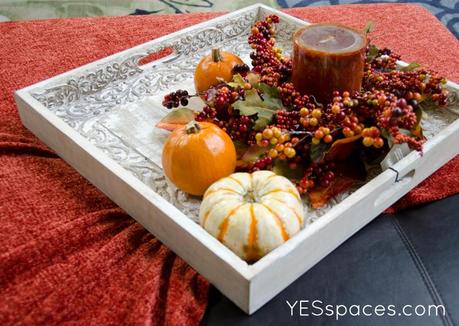 A small bouquet on the side table works well with another small silver pumpkin. I love these pumpkins because they work from September all the way through Thanksgiving!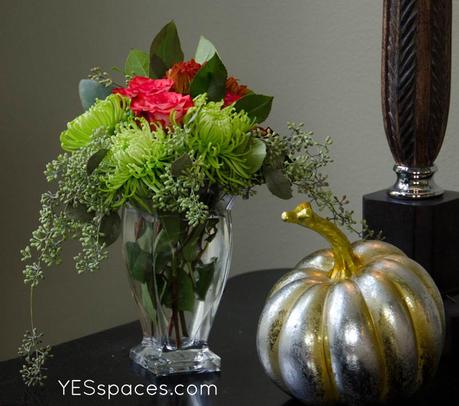 And with that final touch our makeover is complete! Thank you Pier One for sponsoring this makeover we had lots of fun creating a wonderful Fall space for this family to enjoy! Pier One has a 10% off coupon on their home page right now and some of their Fall items are starting to be marked down so rush out this weekend to get set through Thanksgiving!
If you would like a chance to win the $50 Pier One Gift Card just subscribe to the blog! And if you are already one of our wonderful readers just leave a comment saying you are already signed up or send me an email and you will be entered as well! We will award it November 1st.
Happy decorating!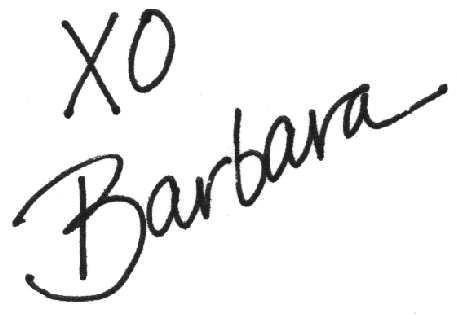 If you want a beautiful home for the holidays or every day contact YES Spaces today! I would love to talk to you about your family and your space!
Visit our YES Spaces DIY channel to see videos of other family friendly projects!
Connect with us on Facebook for the "How To" behind some of today's most popular design ideas!
View our Pinterest Boards for my curated design inspiration!