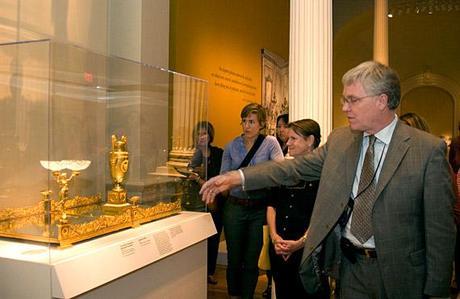 William Allman, curator of the White House tells a story about the Monroe Plateau, a centerpiece that adorned the dinner table at White House functions.
In honor of the fiftieth anniversary of the White House Historical Association, established by First Lady Jacqueline Kennedy in 1961 to restore the historical ambiance of the rooms and create a museum-worthy collection, the Renwick is featuring the exhibition, Something of Splendor: Decorative Arts from the White House. White House curator William Allman worked carefully with American Art (the Renwick and the White House are neighbors), "to pick beautiful objects, display them superbly, and let you enjoy the stories that go with them."
And indeed, each object has a terrific story to tell about its makings or its place in the White House and the history of the presidents and their families. It's a chance to get up close to various rooms in the house, such as the Blue and Green Rooms, as well as gaze at often over-the-top pieces in the dining room and in the gallery dedicated to entertaining at the White House.
Allman is a wonderful storyteller about these pieces. He will be speaking on Saturday, October 1, at 2pm at the Renwick Gallery. If you can't make it, listen to our podcasts where Allman tell us more stories about some of the objects in the show.