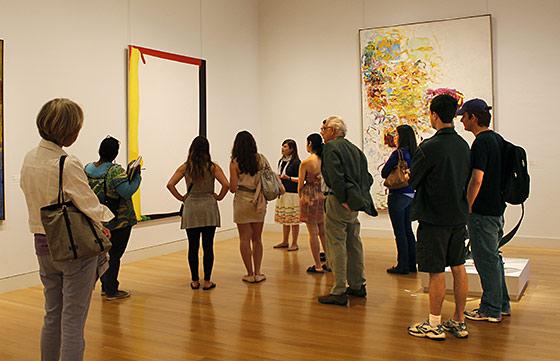 Public Programs Coordinator Laurel Fehrenbach, center, leads a discussion with Slow Art participants at American Art
American Art participated in this year's Slow Art Day, one of over 265 museums world-wide. One of the paintings we discussed was Untitled by Sam Francis in the Abstract Expressionist galleries. We talked about the idea of positive and negative space. Is the white center of this piece empty and open? Or does the white fill the void between the colored borders? We couldn't decide, but half the fun was talking about it!
No need to wait until next year's event. Try this on your own, with another work in our collection. Here are a few questions to get you started:
What do you see?

What grabs your attention?

What do you notice about the material this piece made out of?

What does this piece make you think of?

If you had the opportunity to speak with the artist, what one question would you ask?

How do you think this work relates to the other pieces around it?

Do you like this piece? Why or why not?