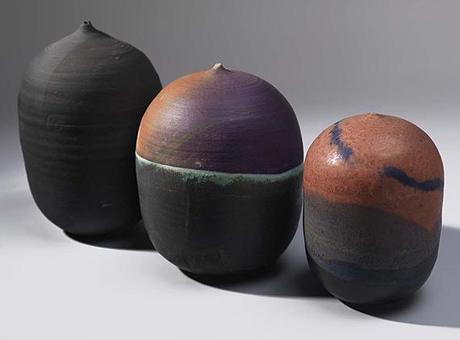 Closed Forms by Toshiko Takaezu
Pioneering ceramic artist, Toshiko Takaezu, passed away last week in her native Hawaii at the age of 88, following a six-decade career in clay. The Renwick Gallery celebrates her life and career with the installation of three of the 19 works in the collection of the Renwick. Her Closed Forms exhibit her trademark silhouette and deft use of color, at a more intimate scale.
These works, now on display on the first floor at the Renwick, were a gift to her close friend, the late fiber artist Lenore Tawney, in honor of their friendship. Tawney kept them in her collection until shortly before her death in September 2007 when she donated them to the museum with the encouragement of Ms. Takaezu.
Renwick Gallery, Ceramics, Toshiko Takaezu, Lenore Tawney, American Art, Smithsonian American Art Museum