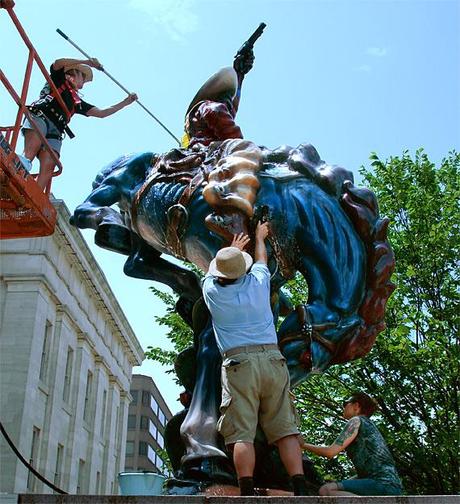 Members of American Art's Conservation department wash Luis Jiménez's Vaquero
Artworks within American Art are meticulously attended to. Humidity and lighting are kept at optimum conditions. But how do you take care of an artwork that adorns the outside entrance to the museum and stands tall during the heat and humidity of the summer as well as the cold of the winter? Also very attentively.
This year American Art's conservators are paying special attention to Luis Jiménez's Vaquero with a good washing, waxing and buffing. And that's what is taking place this week at our 8th and G streets entrance. At the end of the process Vaquero will be ready to stand up to all the elements D.C.'s weather can hand out. With the heat and humidity of this week's weather, he looks quite a bit better than the rest of us walking down the street.