This picture is making the rounds today.. it is a picture of Finance Minister Yair Lapid speaking at the Prime Minister's Conference for Equality of Minorities.. It points to how short Yair Lapid actually is, and how he makes himself appear taller, and therefore more dominant and powerful, by standing at podiums (he has done this before) on a stool.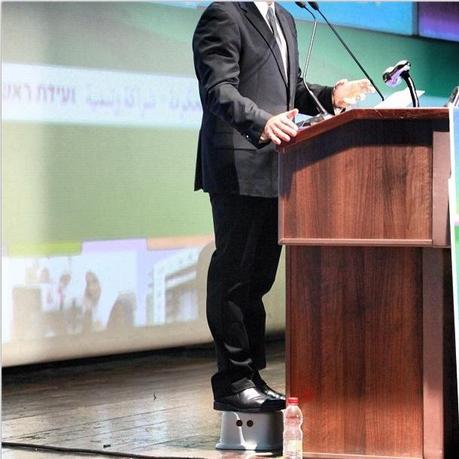 Minister of Economic Affairs Naftali Bennet, also known as Lapid's "brother", has his back. On Bennet's Facebook page he criticizes the people who have been spreading this around laughing and criticizing Lapid because of it. Bennet described some of Lapid's recent efforts and accomplishments, and said that attacking him for something so irrelevant hurts Israel's ability to make significant changes (though he does not say how).
-------------------------------------------------------------
Donate to the Schneider Hospital so I can run the Schneider benefit marathon..

------------------------------------------------------
Reach thousands of readers with your ad by advertising on Life in Israel
------------------------------------------------------