Picture navigation feature is a boon in a car's navigation system.
If you have picture navigation feature in your car's navigation system, it is a boon.
A powerful feature like picture navigation installed in your car's navigation system.
Recently there was an interesting incident. The incident is about how technology helped two friends meet at an unknown place. It is about the picture navigation feature in my car's navigation system. I went to Udaipur by my car. A friend of mine also was there. He had come from Mumbai. He was already staying there for the last couple of days. We planned to meet as soon as I enter the city. His name is Suresh. He is not very conversant with routes and locations. We are friends for last two decades. He is my childhood friend. We both were in the same school. We took the same subjects. Science was our favorite subject. He did his graduation in electronics and then joined a firm in Mumbai. I did my computer science and then master degree in business administration. And then I started my journey as a technology guy. We both used to communicate regularly. Both of us were excelling well in our career and were happy about it. Suresh got married and has two children. I am about to tell about the picture navigation feature in my car's navigation system.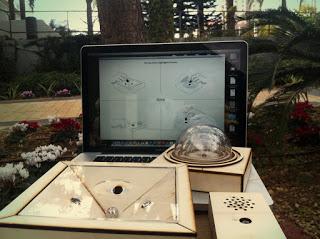 Photo credit: Ars Electronica via VisualHunt / CC BY-NC-ND
Suresh is a simple person. That is probably the reason of our friendship. He never boasts about whatever he achieved in life. He is a big fan of new cars. Every year or at the most every alternative year he would buy a new car. He is quite savvy about the new features in a car. Before I started from my home for Udaipur I told Suresh to extend his vacation there. After all, after many years, we were getting a chance to meet in person. In this era of video chats and WhatsApp although we never miss to talk to each other on a daily basis but still a personal meeting and remembering those old days is always a blessing.
I told Suresh I would be reaching Udaipur by evening. I was driving my own car. As I was about to enter the city, I called him and asked him where would we be meeting. He was sitting in a café but was not sure about its whereabouts. Even asking from the staff did not help much about getting the accurate route. I told him to send me the complete address that he didn't know. His Hindi has deteriorated in last few years. He has picked up Marathi well, though. The local guys were not able to tell him the complete address in Marathi or English.
I told Suresh to just take a good snap of the location and send it to me. In next few moments, the location's snap and a good picture of the café was there. I fed it in my car's navigation system and then it picked it up well. The strong navigation system of my car drove me accurately to the destination without much trouble. Soon we were sitting together, sipping coffee, having snacks and remembering our old golden days. Thanks to the picture navigation feature embedded in my car's navigation system that helped. 
This blog post is inspired by the blogging marathon hosted on IndiBlogger for the launch of the #Fantastico Zica from Tata Motors. You can  apply for a test drive of the hatchback Zica today.