Summer is just around the corner and we have had the odd few glimpses of it, with the odd sunny day here and there.
Today is an absolute gorgeous day. Me and Izzy are actually in the garden as I write this.
Summer is great for sitting out in the garden and for picnics. Wilkos have everything you need for a great garden this Summer. Everything from patio sets, planters, ornaments and more. The very low cost means gardens can look magnificent without costing the Earth.
I have been sent over some of Wilkos garden Carnaby range. The Carmaby range takes inspiration from the 1960s era, with striking colours and bold patterns. Which can be clearly seen on my Pitcher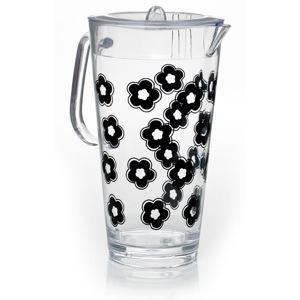 For just a mere £5, this is a total bargain. It is made from very tough plastic and is designed to be strong and sturdy with it being used for outdoor use. The pitcher is heat resistant, though not suitable for pouring hot liquids in. It is of course designed for cold refreshing drinks on a hot day.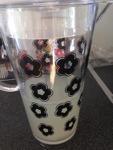 The black hippyish flower design certainly has the 1960s Summer of love feel. This stands out on any patio table.
The liquid pours out with ease at a steady rate. When not in use the lid keeps the juice inside fresh and free from flying insects. The pitcher is very useful for entertaining guests or even kids. I find it best filled with fresh juice and ice cubes.
Several other items compliment the pitcher. Such as the matching wine glasses.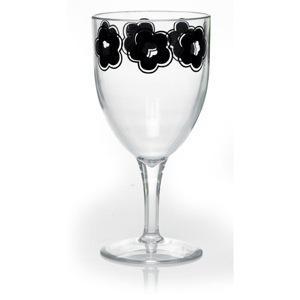 The great thing about these glasses is that they are also made of very tough plastic (known as melamine). Meaning they are very safe for outdoor use and children can use them too.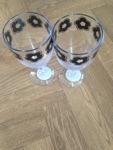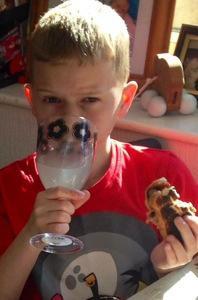 There is nothing like going for a good old fashioned picnic with children. Waiting for a nice day is the tricky bit. You don't have to go far to have one, nor spend a lot of money. A few sandwiches, drinks and crisps will do and either a local park, field or… Even your garden will do.
I was really happy to find a lovely "real" Picnic rug in my parcel from Wilkos. The reason I say real is because I have never had one before. I have always used a blanket or big beach towel.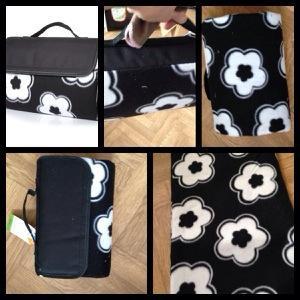 This Picnic rug also has the Carnaby design. It arrives ready rolled up and folded. It looks like a little handbag and has a carry handle too. It stays in the folded position via Velcro straps.
I was very surprised at it's size. When unfolded it is really big and will easily fit 5 or 6 people (maybe more) on.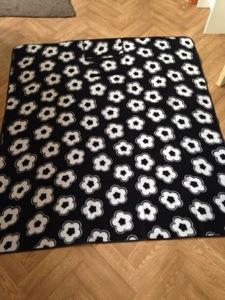 The dimensions are 133x148cms. The material is soft fleece so if say we wear shorts or Summer dresses, it will feel soft next to bare skin. Underneath the rug is a waterproof backing.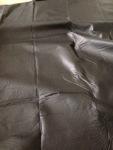 A very big, soft and lovely designed picnic rug. I am sure we will get lots of use out of this once the Summer arrives.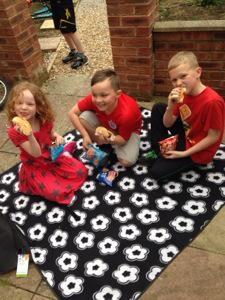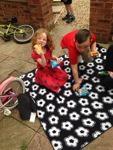 Ryan and Jordanna could not wait to test it out in out garden, picnic food included.
I was slightly worried that I may not beable to re fold it back to how it was, but it's really easy to roll and fold away and it folds up quite small for storage.
I think the rug could have other uses too. When the Summer months are done the rug could perhaps be kept in the car, just incase of a break down and used as a blanket too. That's just my idea tho.
I can't believe this beautiful picnic rug only costs £10 too.