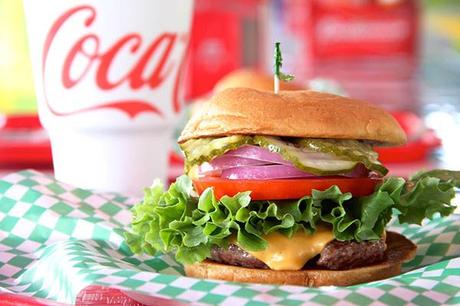 Photo: Susan Benton 30AEats.com
In the heart of the picturesque town of Seaside, Florida, just steps from the beach where new urbanism was founded, you will find the vivacious couple, Heavenly and Bill Dawson who know a thing or two about good food. They are the local owners of several Seaside establishments, such as Dawson's Yogurt, Heavenly's Shortcakes, Wild Bill's Beach Dogs, and The Shrimp Shack.
Among their exciting array of eateries is also our family favorite Pickles, which is a classically designed space that sits in one of the first buildings built in Seaside. Over fifteen years ago, the Dawson's approached Robert Davis, the Town founder about the concept of a hot dog and beer stand, and Pickles was created.
Though in 1993 it only had forty-eight square feet of space, today Pickles boasts and new look, a new menu, new sign and close to six-hundred spacious square feet. The eatery offers seating inside and outside on their dining deck that is surrounded by a vibrant living wall of  ivy, and runners have been hired to deliver guests their orders table side.
At Pickles it doesn't matter if you are wearing a wet bathing suit or a business suit, the walk-up window is where all place their orders before nestling into a favorite spot to wait on a sumptuous gourmet delivery. In the summer time, when the warmer weather hits the Gulf Coast, the Pickle's Mister System activates and a gentle mist fills the dining area, cooling patrons and those meandering by.
Pickles strives to bring the freshest and most high quality local ingredients to their customers. Farmer Paul from the Seaside Farmers Market supplies all of their produce, and the owners recently created what they feel is the best burger in the world. Heavenly says, "We are farm to table!"
The Dawson's were set on serving the finest quality grass fed burger and hand cut fries along with creating the perfect milk shake. Together this husband and wife team took on the industry saying,  "instead of thinking inside the box we are thinking outside of the box", and that became their mission.
For more than three years they searched until they found Will Harris of White Oak Pastures, a 146-year-old family farm located in Bluffton, Georgia, just a few hours from Seaside. White Oak Pastures is the largest USDA Certified Organic farm in Georgia and received the Governors Award for Environmental Stewardship in 2011.
Will, a fourth generation cattlemen, met with the Dawson's several times, as well as Pickles employees, ensuring all about the high quality of beef and chicken, and the humane way they process. Will and Heavenly perfected the special ground meat mixture for their beef patties, which she seasons on-site at Pickles with a special seasoning salt, her own unique blend.
Heavenly then looked to her Atlanta roots to find the best buns for Pickles new burgers, and landed on Asada Bakery, a thirty-year-old artisanal bakery serving only certified organic whole grain breads. Asada now ships brioche buns to Pickles daily.
Last, Heavenly searched for the perfect mixture of butterfat for her ice cream made on site weekly, and says "We flavor all of the ice cream ourselves." The milkshakes are decadent and creamy, topped with a nice rich whipped cream, special sauce and a cherry.
Other menu items at Pickles include their would-famous fried pickles, BLT, Club, and Philly Cheese Steak sandwiches all made with Boars Head meats, chili-cheese dogs, hand-cut fries, and their new chicken burger. Heavenly says, " I like my chicken burger with Monteray Jack and pickled okra!" Pickles also serves breakfast daily with menu favorites like the Hangover Omelette and the french toast.
Bill and Heavenly are proud of their new menu; especially the burgers that are hand pattied on site, cooked to order fresh each day, and served on a brioche bun, as well as the Harris Ranch abattoir chicken burger.
The Dawson's put an extensive amount of time, hard work, thought, and dedication into creating the best burger on the beach. Bill Dawson measures his success on the crumbs left are behind, and says "I haven't found any yet!"
Serving breakfast, lunch & dinner 9am until. 850.231.5686 / www.sweetwilliamsltd.com