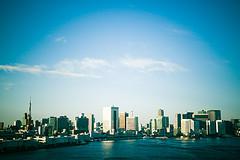 Image by oisa via Flickr
You are interested in learning Japanese. You have decided to avail the learning abroad opportunity by traveling to the city of Tokyo in Japan. You have picked up your language school to equip you with the necessary language skills. So what's next?
Part of the language school's package in catering the needs of their learners is to accommodate them as to where they want to stay. In Tokyo, there are actually two options learners can avail when they want to stay full-time. These are what you call Homestay and Dormitory.
Homestay accommodation is a type of lodging where learners are escorted by a Japanese-speaking family and allow them to learn more about the Japanese way of life. This is highly encouraged to learners since they can practice their target language constantly by speaking to native speakers in real-life situations. The simple conversation of the learner and the family whom the learner will stay with will become an effective tool in sharpening his skills in Japanese language acquisition.
Our homestay coordinator in our respective language school in Tokyo actually selects the host families with scrutiny and standards. We value the welfare of our learner that's why the coordinator regularly visits them to ensure that high standards are maintained permanently. As of now, we have 160 host families so learners will have a great time spending the language learning with fewer intricacies and enjoy the moment of being welcomed, making him as part of their family.
However, if you're not comfortable of staying to a Japanese family and you want to be independent, then the dormitory accommodation is very fine for you. For those who want to spend more time with other students and enjoy the moment of learning Japanese together, then this accommodation is suitable for you.
Learners can choose either for a school or private dormitory. The school dormitory offers single and double rooms while the private dormitory offers only private rooms. Private dorms require deposits but the school dorm does not need at all.  Though there is really an advantage for the private dormitories, still learners are guaranteed to that all facilities of both dormitories are modern, functional and of very good quality. They will be well-accommodated according to the price that they pay for it.
So, which accommodation would you want to avail? Learn Japanese in Tokyo and be accommodated with the kind of lodging that you choose!