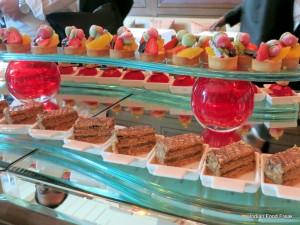 "Picasso of Pastry" "God of Macarons" are words that sound so intimidating. But there was nothing intimidating about this affable man, who walked into a room full of the top chefs of the capital and leading food bloggers, at an interactive session organised by the India Today Spice and The Leela Palace, New Delhi at Le Cirque.
Pierre Herme made sure that nothing was "lost in translation" as he soon did away with the services of his interpreter, making a direct connection with the enthralled audience, by speaking in English, while talking about his macarons, chocolates other desserts.
The audience which was listening to him in rapt attention broke into an excited chatter, when platters full of macarons and chocolates came to every table, and each one of those present got a chance to taste these heavenly creations, for which one would have paid an arm and a leg in Paris London or Tokyo.
Inspiration for Pierre Herme comes from everywhere, something he sees or reads, whether he is sitting at a restaurant or walking downs the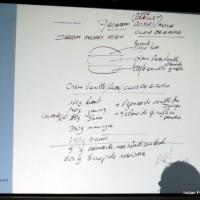 street. For him it is very important to innovate and create "a new architecture of taste". He often pushes it to the "maximum", marrying flavours and ingredients, which people cannot even conceive. Who else could create a macaron with Black Truffle and Celery, Raspberry Parmesan Cheese and Red Pepper, Olive Oil and Vanilla, Rose Cloves and Carnation, Japanese Cheery Blossom. His best selling and most well known product which catapulted him to fame, the Ispahan, combines Fresh raspberry Canned Litchi and Rose Petal.  

When asked by Rocky Mohan, the co-founder of Delhi Gourmet Club, why he chose to specialize in Macarons , Pierre Herme said that when he entered the confectionery business many years ago, this was an empty field and only four flavours of Macarons were available, Chocolate, Vanilla, Strawberry and Coffee. This product gave him the most scope to innovate and experiment.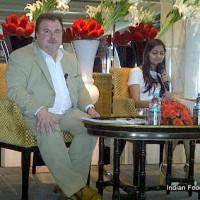 On being asked to define a perfect macaron , he said that the biscuit does not have to be chewy and the filling inside could be thick or thin but always smooth. For Monsieur Herme a "Savory Macaron" does not exist. Though he has worked with sugar free products, but it does not work for macarons , which have to be sweet. 

Another ingredient which Pierre Herme loves to experiment with is oils. He loves to substitute butter with Olive Oil and now wants to create something with Mustard Oil. He is always looking to source the best, be it Sicilian Lemons, Peruvian Dark Chocolates, Vanilla from Madagascar, Hazelnuts from Italy. 

It was really inspiring to hear him speak about his urge for learning and the ability to "think out of the box". No wonder Chef Saby who had attended a workshop conducted by Pierre Herme at the World Gourmet Summit way back in 2000, considers him a guru of sorts.

The "High Tea" organised at Le Cirque after the talk was equally impressive.

This is one event which is going to be talked about for a long time