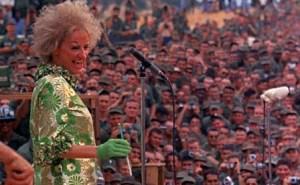 Known for her legendary cackle, Diller was a force in the showbiz world who began her career in 1952 and was catapulted to fame in TV specials alongside Bob Hope in the 1960s.
Diller paved the way for generations of female comedians, notably like Joan Rivers and others, who broke down the image of the American housewife.
Born Phyllis Ada Driver on July 17, 1917, in Lima, Ohio, she was the first of a new breed; deconstructing the suburban housewife and drawing in laughs on the subject of child-bearing and her fictional husband, Fang.
Eccentric in her appearance, it was balanced by a self-deprecating tone that endeared her to all she met.
 'Her lines were so brilliant that all she had to do was stand on the stage and say 'em and you would have cracked up.'

- Joan Rivers
Diller died at 95 years old in Los Angeles.