So you've been seeing me blog and Instagram about this shower for my sis-in-law forever, I know! But I got the pics that photographer Melissa Stewardson captured so beautifully, and had to share!
First let me say it is downright difficult to find party supplies aren't too pastel (= baby) or too bright (= birthday). Sheesh. I had such a tough time sticking to my original color scheme, but I think we were able to pull it off all the same.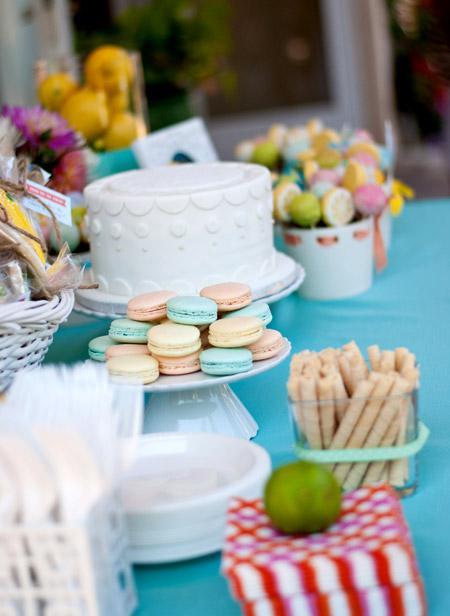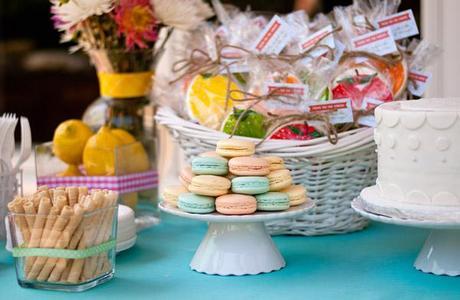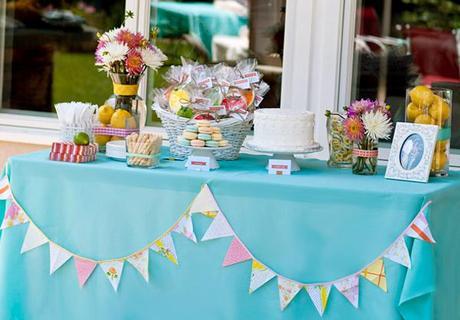 We decided to make the dessert table our centerpiece. I found the aqua tablecloths at Party City for only $10/pop! And the vintage fabric garland is from Etsy, of course!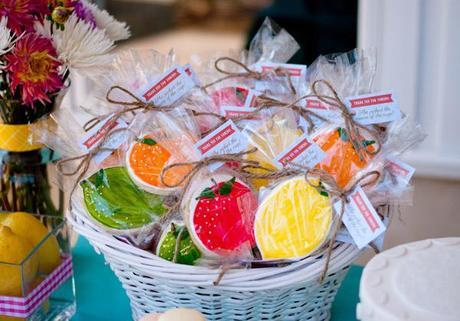 One of the bridesmaids (the bride's cousin) makes sugar cookies for events as a hobby. She's phenomenal. She hand painted each one to match my inspiration image from Rifle Paper Co.. (The favor tags coordinated with the invitations and say "She picked the cream of the crop!")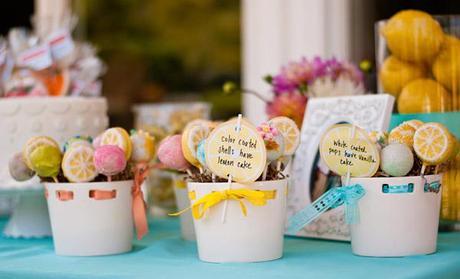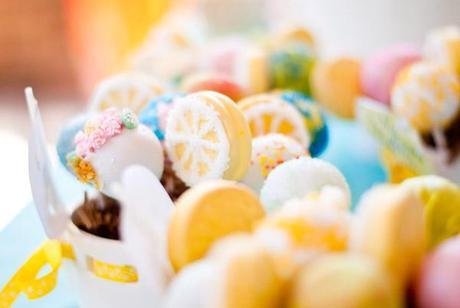 Another bridesmaid made these amazing cake pops! She created such a variety and they were all so yummy. Love the oreo filled lemons!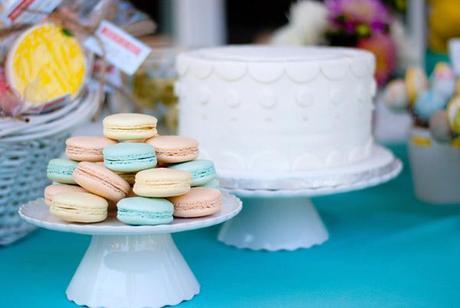 Macarons and fondant cake were made by one of my clients (Merely Sweets in Brea, website coming soon!). Cake plates are from Crate & Barrel.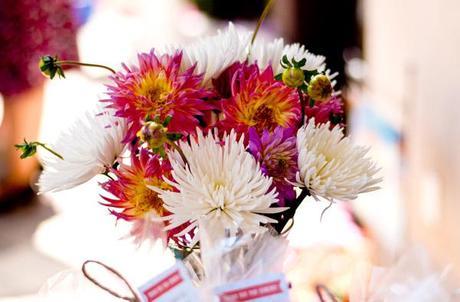 One of the ways we saved money was to make our own flower arrangements. My co-maid of honor (the bride's younger sis) found all the flowers at our local Farmer's Market. We were able to create 8 arrangements for $37! All those little vases I'd been saving from years of receiving flowers from my husband sure came in handy.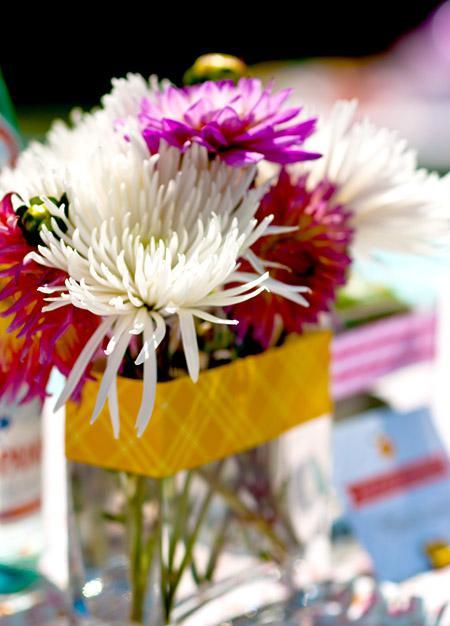 I purchased a bunch of colorful ribbon from Michael's to wrap the vases. And yes, I carefully planned out which vases would have which ribbon and on which table, according to our floor plan. (Would you expect anything less?)
We also used hydrangea from my mother-in-law's garden, and mixed the flower vases with other vases of lemons and limes. Another cute touch: we bought fabric from a discount fabric store (thanks Julie for the reco!) that my mother-in-law sewed into runners for the tables.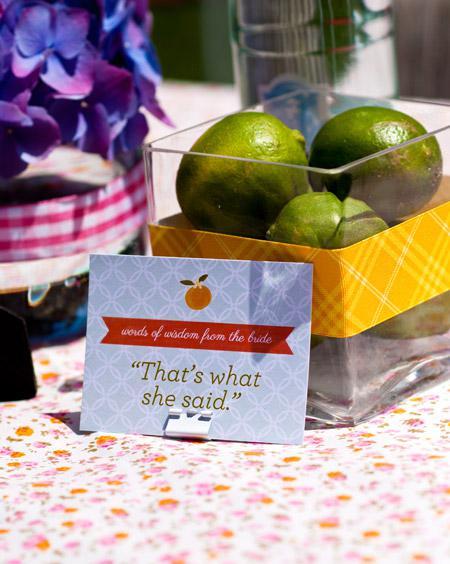 One of the silly personal touches we incorporated was to include these little signs of funny things the bride says. I asked all the bridesmaids and her fiancé for suggestions. Great conversation starters! Heh heh.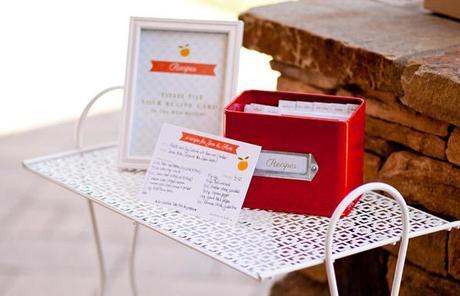 With the invitation, we sent a recipe card that we asked each guest to fill out and bring with them. I've had this little vintage table for years, and it was perfect to display this cute retro recipe box from the Martha Stewart Collection.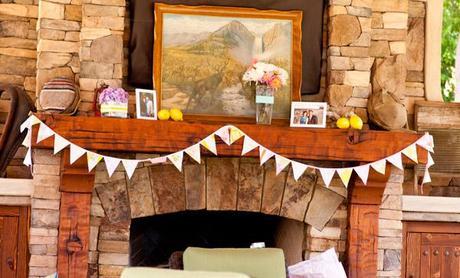 We were able to pull our theme into the outdoor gift-opening "gazebo" — and let me tell you this was no ordinary gazebo…fireplace, ceiling fan, heat lamps, widescreen TV, ample seating. Our generous hostess (a family friend) has quite the party pad – I would never leave this space!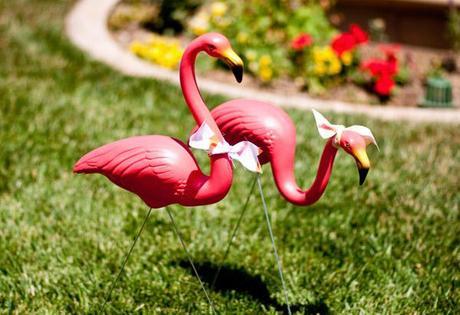 Lastly, the party would not be complete without an appearance from our "his/her" lawn flamingos, with "bows" out of extra pieces of vintage fabric. (They need names…my husband suggested something reminiscent of Florida retirees like Flo and Mel?)
But my job's not done yet! I'm off to Vegas today for the bachelorette. Wish me luck, I will need it! Yikes.

All photos by Melissa Stewardson Photography