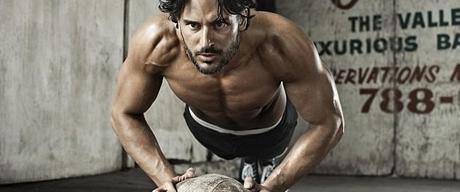 We all know Joe Manganiello as Alcide Herveaux in True Blood, but this summer he has been busy on the big screen in a few movies.  The one coming out on June 29 is called Magic Mike.  Mail Online was able to catch up with Joe while he did a shirtless workout photo shoot for his interview he did with Men's Health magazine.
Here is what he said about the extra's on the set of the new movie and what might happen to their husbands.
"There are guys who are going to divorce their wives after they see what [these women] did as extras in this movie.  We were…manhandling groups of 200 female extras every day."
But being that fit of a guy has not always been a good thing in hollywood.  Here is what Joe had to say about getting acting roles in Hollywood.
"I got to LA in 2000, when we were coming off the '90s: women looked like men and the men all looked like women.  I was constantly being told, 'You're too healthy', so there were four years where I essentially didn't work."
Of course we are seeing more of Joe lately so here is what he said about the change in men appearance.
"I think we're seeing a return to 'the Man'.  People come up to me and say they miss those silent, tough guys like Clint Eastwood and Steve McQueen.  You've still got to be able to act and emote but you also have to fit the role physically, and that physique is now lean and muscular."
See the photos from Joe's Men's Health shoot below, For more on the interview click here.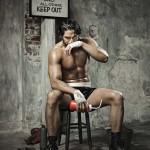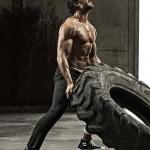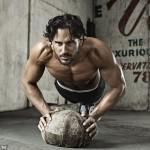 Source: DailyMail.co.uk – "Pectacular! Joe Mananiello get his True Blood pumping in shirtless workout"
Image Credits: Men's Health