Having written twice about SEO of Photography I don't feel the need to duplicate content about SEO for Wedding Photographers or in general about image search optimisation for the web. However I do want to introduce you to a great plugin that I first found last year, its fairly simple in what it offers but the results are amazing.
WordPress Plugin for Photographers
The plugin called "seo friendly images" will automatically add the all important meta data to your image tags across your wordpress site (both old and new, unless you've added it yourself already). This meta data is the Alt Text and the Title attribute. The results are improved rankings for image search and improved rankings overall, as search engines know what your image is actually about – importantly it also helps with your website accessibility, which is a big thing for photography websites.
The plugin is developed by Vladimir Prelovac, his codes is constantly updated and for those using a ProPhoto theme I have tried and tested and it works there too. Further to this, the plugin is published under the GNU General Public License which basically means the work is open source and has contributors beyond just Vladimir. Best of all the plugin is FREE!
Download the WordPress Plugin for Photographers here
Settings Within the Photographers WordPress Plugin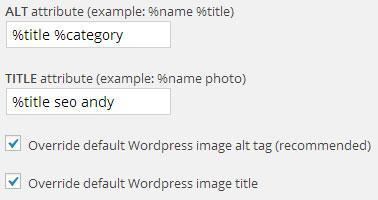 There are two major settings to concern yourself with (actually the only real two). Those are the alt text formula and the title attribute formula.
To the right is how SEO Andy has this set.
For photographers, my general advice would be to use the below settings (feel free to copy and paste).
Alt Text – "%title – Wedding Photography by <brand name>"
Title Text – "Wedding Photography - %title %category"
Still Need More WordPress SEO Help?
If you still need more SEO help with wordpress checkout my favorite 5 seo plugins for wordpress.
Have a question about your SEO, tweet me @andykinsey or ping me an email via the RedStar website.
Original Content by SEO Andy @ Photography & Image Optimisation for WordPress