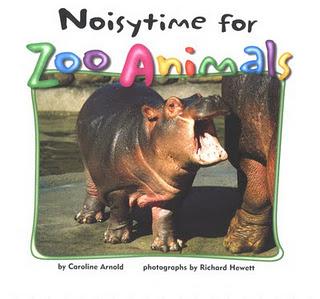 Noisytime for Zoo Animals
is one of six books in a series about how zoo animals eat, sleep, play, bathe, have babies, and make noise.  The photographer, Richard Hewett, and I spent many hours at zoos watching animals and waiting for just the right moment to take a picture.  It is important to have LOTS of patience when photographing animals.  You can't ask an elephant to "just turn a little more this way, please"!  Even though the photos look as if we were close to the animals, we were always safely on the other side of a fence or inside a vehicle.  Richard used a telephoto lens to make the animals seem close-up.  While he took pictures, I watched and listened to the animals and took notes that later helped me to write the book.
      Other books in this series are Playtime for Zoo Animals, Mealtime for Zoo Animals, Sleepytime for Zoo Animals, Splashtime for Zoo Animals and Mother and Baby Zoo Animals. They were published by Lerner in 1999. Although these books are all out of print, you may be able to find them in your library, online, or as e-books.