It was when I saw my own wedding photographer roll his eyes at the mere mention of people filming our day that I started to wonder what the issue was. How sad, I thought. Why on earth would he be so obvious about his dislike for a film crew when he's never even met my guys before, let alone worked with them? But after a little research and asking a few of my new wedding photographer friends I realised that there was a bit of a bad rep around. On too many occasions there had been disagreements between photographer and videographer and they had plenty of horror stories to share. Some of them were really quite shocking!
Now, armed with this knowledge I make that extra effort with all the suppliers I work with. I try and send a friendly email and tweet before the wedding to introduce myself and have even kept in touch after the wedding! On the day I understand that we are there to capture the day for the couple and I'd hate any tensions-I hate tensions in general, never mind at work-so I like to be professional, polite and basically win them over! As soon as they realize I'm not 'one of those videographers' we're soon working perfectly together and being conscious of what the other is doing so we can complement that and not get in the way! I even like to get the photographer in the occasional shot as they are such a big part of every wedding day.
You can see Mick Cookson working away during Laura and Andy's Highlights Film.

Click here to view the embedded video.
I thought I'd share with you a couple of my favorite photographers to work with and you'll hopefully see how choosing the perfect team to capture your wedding can really help relax and get the best from your wedding photographs and wedding DVD!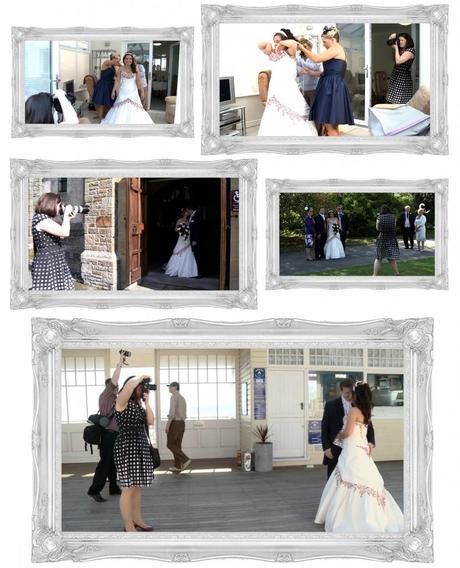 Evie (in the polka dot dress, above) and Jamie (in the striped shirt) at Chapter Photography have been amazingly supportive since I started my business. It was actually our mutual hairdresser friend, at Cabello in Ormskirk, that played matchmaker and we've had the pleasure of working on a lot of weddings together! Because we work a lot together we understand each other's way of working and can adapt all the time to make it work for both of us. On our wedding day our photographer regularly arranged photos without keeping the videographers in the loop. If it hadn't been for Scott's eagle eye he could've missed the confetti shot completely! Evie and Jamie's approach to their photography was the main reason we wanted them to do a wedding re-shoot for us. We were blown away with what they captured and just wish we'd had them capture our actual wedding (you can see their re-shoot blog post here)! Oh, and we also filmed their wedding so we're used to being in front and behind the camera with each other!
Above and below are taken from Maria and Scott's wedding in Cardiff. It was great working with Chapter as we were all on the same page and the day flew by without a hiccup.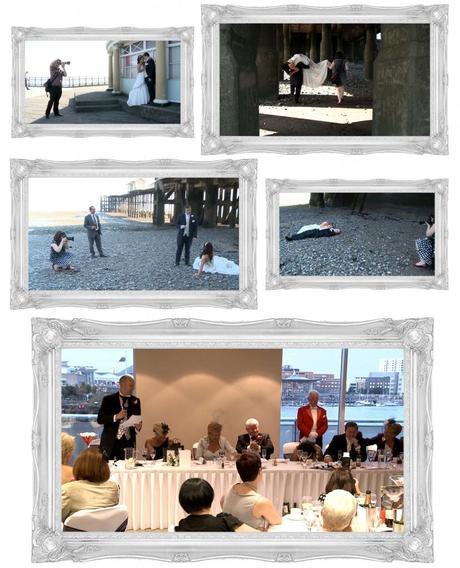 Can you spot Evie in the photo above? She kindly ducked down so she wasn't in our shot but still in a position where she could get some amazing images of the wedding speeches!
And here are a few images from the Photographers side…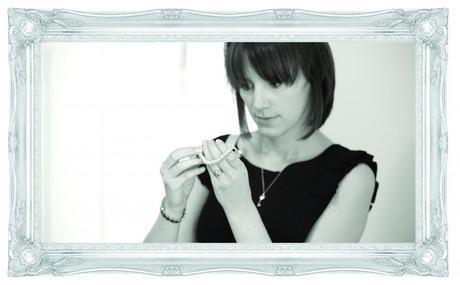 Evie and I find ourselves helping out in the morning to make sure everything is perfect and on this occasion I found myself adding Maria's new charm (a gift from her Husband to be, Scott) to her bracelet. Evie's been know to use her emergency sewing kit on occasions too!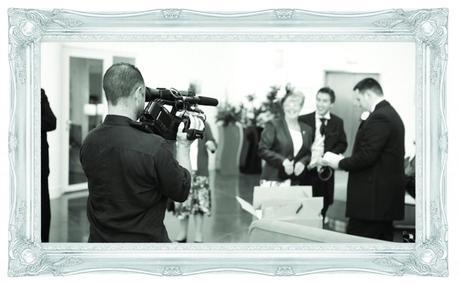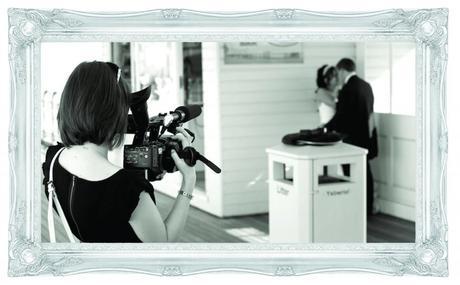 You can see Chapter Photography's post on Maria and Scott's Cardiff wedding here
I had the pleasure of working with Mick Cookson at Laura and Andy's Wedding at Mottram Hall (their Highlights Film is at the top of this post) and I hope I get to work with him again soon. Mick was a photographer who had had to deal with a lot of unprofessional videographers so was initially a little quiet around us when we first started shooting. After lots of giggling with Laura, the Bride, we started to hit it off and work around each other like we had been shooting together for years. I even found myself holding up his flash gun so he could get a really good shot of them in front of Mottram Hall! His style is very documentary based so there were less couple shots and more darting around the guests and the venue capturing the excitement. I still managed to capture him in some of my shots…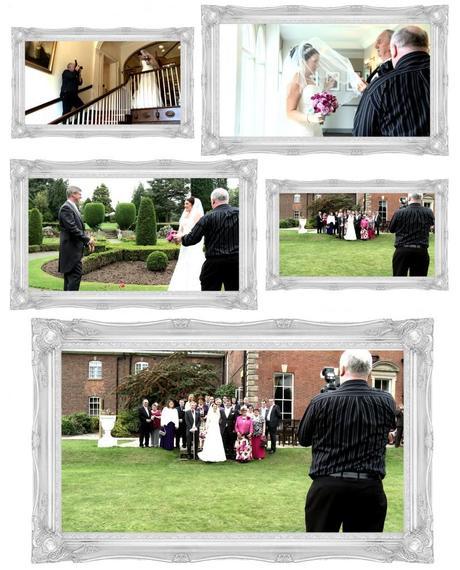 And here are a few from his camera…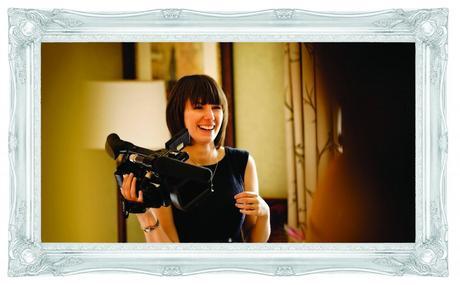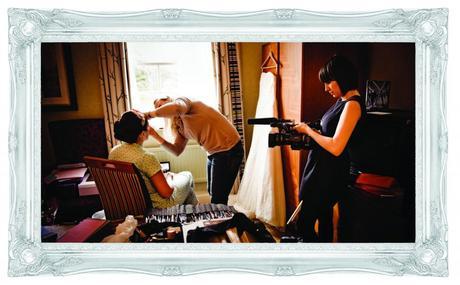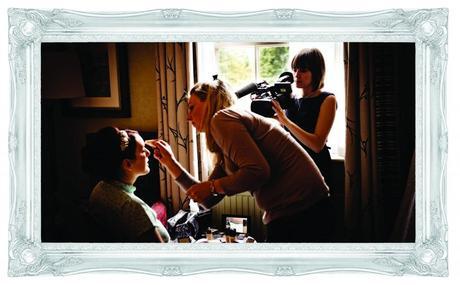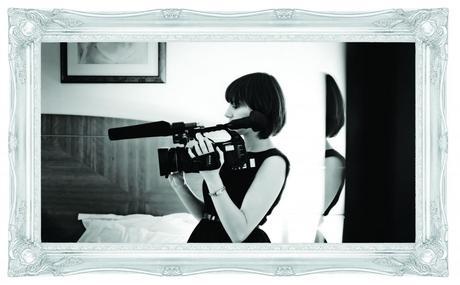 Mick Cookson - Laura and Andy's Wedding Blog 
My top tips for having both photography and videography to capture your wedding day would be…
- See if your photographer or videographer has any recommendations first. As well as being someone they work well with, they may also have a style that complements their work well. There are so many styles of videography now that we are moving away from the more traditional style wedding videos. From Cinematic (they tend to use lots of film style equipment like stedicams and slide tracks) to Documentary style (where they capture the action as it happens, usually blending in to the background so it seems very natural and unobtrusive) or even a combination of the two for that extra wow factor. You'll know which style you're drawn to once you start looking.
- If you're not keen on their recommendations then ask friends and family. Maybe start your research online now. Look for reviews and testimonials once you've found a style you like. The Wedding Industry Awards is good as reviews are made by Bride and Grooms who have used the suppliers.
- Draw up a shortlist of everyone you love. It's a good sign if you can watch a strangers wedding film and get goosebumps, laugh out loud or even shed a happy tear. Imagine what they can do for you? You should then try and meet them in person or speak to them directly to see how you get on. This goes for both photography and videography as they will be spending a lot of time with you on the day so it's important to feel relaxed in their company! Ask to see lots of samples of their work. Most will have a lot on their site but it may be nice to see what a final DVD looks like. Do they have interactive menus or do they just play as soon as you put them in your DVD player?
-Once you have found the perfect Photographer and Videographer make them aware of each other. I like to send an intro email or chat to them on the phone before the big day if we've not met before. Most will also take a look at the others site so they can see their style and how they like to work.
After that you can just enjoy the rest of your planning and feel safe in the knowledge that you have picked the perfect team of suppliers. They will be doing everything they can to work together to make your day perfect. All you need to do now is just look forward to your wedding day and seeing your final wedding photographs and wedding films!
You can get a feel for our style of wedding films on our wedding videography portfolio as well as looking through some more of our wedding blog. If you like what you see then do get in touch, maybe even arrange a time to come and meet us in person? We can get the kettle on and show you some of the gorgeous wedding DVD's we've made!