The Season 5 finale of HBO's True Blood is this Sunday and we have already heard from multiple people that its crazy and will be a blood bath.  A new still image from the episode, which is entitled 'Save Yourself' is circulating and it brings together an unlikely group of people.  In the picture below we see Eric (Alexander Skarsgard), Nora (Lucy Griffiths), Tara (Rutina Wesley) and Jason (Ryan Kwanten), all in Sookie's living room.  From the video preview that we've seen we know Jason gets into the headquarters for The Authority so now we have to wait and see how it all plays out.  Be sure to tune in on Sunday to see what the finale has in store for these characters.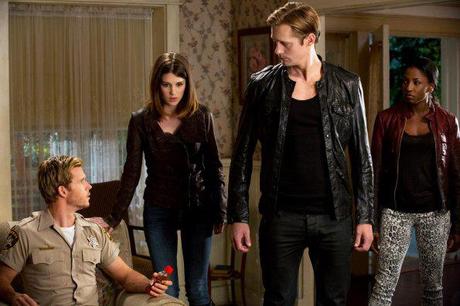 Source:  CarterMatt.com – 'True Blood' finale spoilers: Is this the new team?
Image Credit: HBO, Inc.