Hanok. Ha-what? A traditional Korean house. There are only two hanok villages in Seoul that Google has revealed to me: Bukchon and Namsangol.
Before leaving Seoul Guesthouse, where we stayed for two nights, we took a walk thru Bukchon hanok village, a stone's throw away from the guesthouse...okay, maybe a long and strong throw.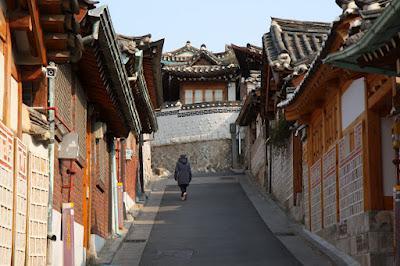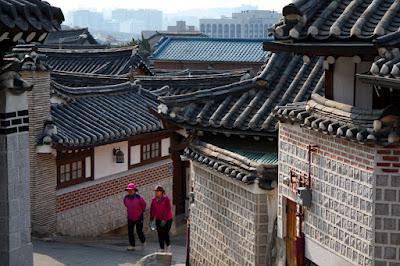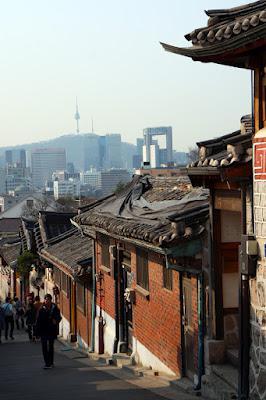 A traditional village in a modern city

In the residential area, remember to keep voices down. In Bukchon, you will also find museums, workshops, galleries, and coffee shops. Learn more about Bukchon here.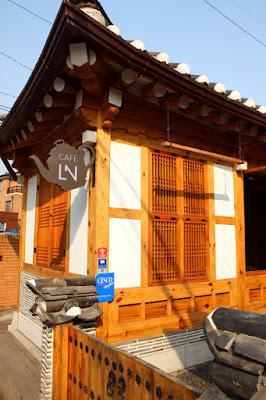 A coffee shop in Bukchon
Bukchon is located between the two palace complexes: Gyeongbokgung and Changdeokgung. If you don't believe me and just have to see for yourself, here's a map of Bukchon.
While you're in the area, why don't you drop by:
Gyeongbokgung (palace)


Changdeokgung (palace)

Huwon (garden)Changgyeonggung (palace)Jongmyo ShrineInsadong (shopping)

Cheonggyecheon

 

(stream)


South Korea Series:Tourist Visa to KoreaRandom Things About KimchilandFrom One Point to AnotherHomes Away From HomeMy First Meal is Not KoreanYou Will Never Go Hungry Here To the North We Go...Almost
Strolling, Collecting Sights 
A Dose of History: Gyeongbokgung
Double Dose of History: Changdeokgung & Huwon
Photo Stop: Bukchon Hanok Village (you're here!)