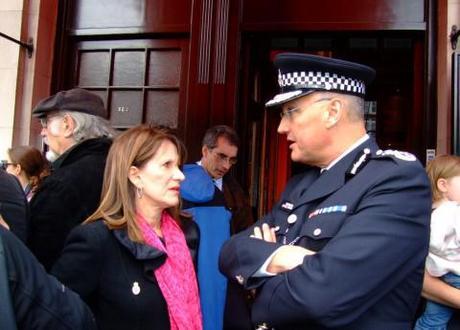 Lynne Featherstone MP and the Met Police Commissioner Sir Paul Stephenson at the PC Blakelock Memorial, Muswell Hill, October 2010. Photo credit: LynneFeatherstone
The arrest on Sunday of ex-News International Chief Executive Rebekah Brooks, combined with Metropolitan Police Commissioner Paul Stephenson's shock resignationm proved that even those at the very top of power are unable to escape the ramifications of the phone hacking scandal. While the latest hackgate developments dominate rolling news, commentators are pondering how, in the long-term, the scandal will impact on the sometimes-murky relationships between politicians, the police and the media.
"A quiet weekend in the phone-hacking scandal? Of course not. The crisis slides unpredictably in all directions, almost hour by hour. The arrest of Rebekah Brooks today is by any standards a sensational development. The resignation of the Met police commissioner, Sir Paul Stephenson, just hours afterwards, made a usually quiet Sunday extraordinary. Who would have thought, two weeks ago, that both Brooks and Stephenson would be gone by now? And yet the resignations are coming so thick and fast that nothing seems surprising," observed The Guardian 's Jackie Ashley.
More police heads to roll? Stephenson stepped down over allegations of an improper relationship with Neil Wallis, a News International executive. Speaking on BBC Radio 4's Today Programme, London Major Boris Johnson cast doubt over the future of John Yates as Met Assistant Commissioner. "The professional standards committee of the Metropolitan Police Authority is meeting this morning and I'm sure that questions surrounding other officers will be asked … I think John Yates has done a very very good job on counter terrorism, I think he's been a very, very fine officer in that respect. Clearly there are now questions about his relationship with [Neil] Wallis and all the rest of it and I'm sure that the MPA is going to be having a look at it."
"The number of dead bodies on the stage is beginning to resemble the final scene of a Shakespearian tragedy" noted The Guardian today.
Time to build a stronger British democracy. Jackie Ashley of The Guardian hoped that the scandal will provide an opportunity to re-mould the relationship between politics and the media. "This is not – and should never be seen as – a 'Westminster village' issue. A wide range of ownership will mean a wider range of ideas being taken seriously in the national media, a better conversation. It will end a form of politics in which a tiny cluster of top politicians and media people (and police, and business leaders) 'count' and most MPs are irrelevant followers. We should get better decisions on tax, welfare, immigration and the bread-and-butter issues," hoped Ashley. "We have been sleepwalking into a Berlusconied Britain, a post-democratic state of winks and nods. Suddenly there is a chance to break the spell. It won't last for ever, and it needs brave, decisive action by MPs. A stronger democracy – whose authority comes from election, not from money? Too much to hope for. But actually, today, it isn't."
Storm gathering over Cameron. "Yesterday's arrest of Rebekah Brooks brings this dramatic saga not only closer to the top of the Murdoch empire, but closer to the door of 10 Downing Street," insisted Andrew Grice, political editor, The Independent. "After Andy Coulson, she is the second person with close links to Mr Cameron to be arrested … The Prime Minister has sought to distance himself from his two friends in the past week, but cannot rewrite history. He appointed Mr Coulson twice – in opposition and to No 10. His social meetings with Ms Brooks last Christmas were among 26 contacts between him and Rupert Murdoch's executives since the election … This crisis has understandably shaken the Cameron circle. Some dared to hope the storm had passed their door last week when the Prime Minister announced the judicial inquiry and disclosed his contacts with the media, a welcome burst of transparency. Yesterday they realised the storm is still gathering pace. It could last for years."
PoliticalBetting.com has a market on who'd take over if Cameron is forced to quit over the phone hacking scandal. Boris Johnson has been installed as 4/1 favourite.
Media wars: The Wall Street Journal bites back. Although News International took out phone hacking apology advertisements over the weekend, the Murdoch-controlled Wall Street Journal went on the attack in an editorial which accused "competitor-critics" The Guardian and BBC of "commercial and ideological motives." "The Schadenfreude is so thick you can't cut it with a chainsaw. Especially redolent are lectures about journalistic standards from publications that give Julian Assange and WikiLeaks their moral imprimatur," sniped the paper, which added, "it is also worth noting the irony of so much moral outrage devoted to a single media company, when British tabloids have been known for decades for buying scoops and digging up dirt on the famous. Fleet Street in general has long had a well-earned global reputation for the blind-quote, single-sourced story that may or may not be true." "The editorial provoked an instant outpouring of comment on Twitter, much of it unfavourable," observed The Guardian's Ed Pilkington. "As one tweet, by Jesse Elsinger, put it: 'Best adj to use for this WSJ editorial: delusional, oedipal, sycophantic or craven?'"
Get more on phone hacking

Brooks (finally) resigns
Hackgate scandal spreads to US
News Corp pulls plug on BSkyB deal
Axed News of the World staffers hit Brooks with parting shot via final edition crossword
Hugh Grant turns the tables on The News of the World