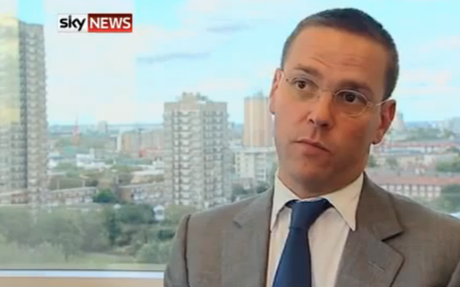 James Murdoch. Photo credit: Sky News
James Murdoch has stepped down as chairman of BSkyB, his last high-profile position in the UK, but will retain his place on the organisation's board. Today's resignation comes hot on the heels of Murdoch stepping down as executive chairman of News International last month after months of pressure over his handling of the phone-hacking council.
"I have been privileged to serve first as chief executive and then as chairman of this outstanding company and I am proud of what we have achieved over this period," said James Murdoch in a letter to the board, reported in Variety. "As attention continues to be paid to past events at News International, I am determined that the interests of BSkyB should not be undermined by matters outside the scope of this company." He added: "I am aware that my role as chairman could become a lightning rod for BSkyB and I believe that my resignation will help ensure that there is no false conflation with events at a separate organization." He is being replaced as chairman by Nick Ferguson, BSkyB's senior non-executive director.
As the news broke of his departure, BSkyB's shares dipped 0.22% to 679.5 pence (1.086 cents) per share, reported Variety.
He's jumped to avoid News International contagion spreading to BSkyB. The BBC's Business Editor Robert Peston said "I am told by his colleagues that he is jumping, rather than being pushed … He is going because he expected criticism would continue to be relentless of his failure to prevent or expose serious wrongdoing at News International, where he was chairman till recently and chief executive prior to that." Peston said Murdoch has chosen to go in an attempt to "lower the stakes for him" in advance of yet more heavy criticism of his stewardship of News International by the Commons Culture Media and Sport select committee. Concurrently, Ofcom, the media regulator, is investigating whether British Sky Broadcasting is fit and proper to continue holding a broadcasting license – "Murdoch's resignation as chairman perhaps reduces the perception that BSkyB's fitness to broadcast is somehow tainted by the alleged wrongdoing at News International."
Labour MP Chris Bryant, a leading campaigner against phone hacking, said his decision was "long overdue" and that he hoped the move would mean the British political class would not be "not be so down on its knees pathetic in the future," reported PoliticsHome.
James Murdoch's resignations are a sideshow. Blogging at The Telegraph, David Hughes said Murdoch's latest resignation is "another attempt to throw ballast out of a sinking balloon. In fact, the serial resignations of the younger Murdoch look increasingly like a sideshow. It is Murdoch Senior who is now finding himself in the firing line." Hughes said recently allegations against News Corp that it has been engaged in organised sabotage of its competitors in multiple territories has turned up the heat on Rupert Murdoch: "In corporate terms, these latest allegations make the phone-hacking scandal look like small potatoes. News Corporation's shareholders must be looking long and hard at them and wondering if there's any more dirt still to come out."
James first, Rupert next? "The move represents James's final retreat from the U.K. in the wake of the hacking and corruption scandal that broke last summer," said Peter Jukes at The Daily Beast, who interpreted the latest resignation as yet another sign that James Murdoch's stock is falling fast in News Corp: "By resigning now, James can look like he left in honor rather than being pushed out in scandal. However, his claim to be the major inheritor of any dynastic power in News Corp. looks completely broken. His older brother, Lachlan, was marginalized by senior News Corp. executives in New York five years ago, and retreated to Australia. Though James has managed to oust several of the nonfamily board rivals, the whole hacking scandal and alleged corporate cover-up has severely dented his reputation … there is now a diminishing chance that a Murdoch will be Chair and CEO of News Corp. when its current 81-year-old incumbent, Rupert Murdoch, steps down. The $60 billion global enterprise which Rupert built up from the inheritance of father Keith in Australia, will not be inherited in the same way by his children. And Rupert's position now looks possibly vulnerable. The whole strategy of the News of the World closure was to protect the BSkyB bid. After the resignation of Rebekah Brooks as CEO of News International, the whole strategy from then on was to protect James. This is the first time the round of resignations of high-level News Corp. executives has touched the Murdoch family directly. An important firewall has gone down."
More on phone hacking and media ethics

Horsegate: Rebekah Brooks gets ex-police horse, observers wonder about Met's relationship to The Sun
Phone hacking: Murdoch pays out
The week in phone hacking
Leveson inquiry: Five of the most damning moments