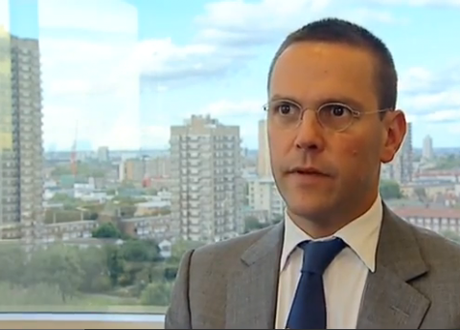 James Murdoch: Photocredit: http://www.youtube.com/watch?v=utwnCoCgo0k
After the Annual General Meeting of News Corp, James Murdoch has managed to survive a vote for him to remain as Director – but by a very slim margin. A considerable 35 percent of shareholders voted against him; 40 percent of the votes that were for him came from his family. His brother Lachlan Murdoch also lost a lot of support; votes against the patriarch Rupert, however, rose by 2 percent.
Read the full text of Rupert Murdoch's response speech here, quoted on The Australian.
Rumblings of revolution. The scale of this revolt is enormous, said Dan Sabbagh on The Guardian.  James Murdoch has been the anointed heir for a long time. Chase Carey, who's currently head of Fox television and film, had the backing of three to one of the shareholders – so if their opinion matters, then "Carey is the successor now." James Murdoch will claim he was at Sky when the phone hacking scandal happened – but he then helmed "18 months of denials." His credibility is shattered – he's also been asked to go before another parliamentary select committee. That's no way for a corporate leader to behave – and next month, maybe shareholders will show their teeth when they decide if they want to re-elect him as a director of British Sky Broadcasting.
What about MP Tom Watson? asked political blogger Guido Fawkes, who pointed out that his attempt to sow discontent with Rupert Murdoch had largely failed: Rupert Murdoch got 86 percent of the shareholders' vote; Tom Watson got 46 percent when he was re-elected in his Bromwich East constituency. Plus News Corp shares have gone up 16 percent.
Look further ahead. The Murdoch brothers (James and Lachlan), said Robert Peston on the BBC, can't be chucked off the board, because they're backed by Prince Alwaleed Bin Talal and their family – who between them control 47 percent of the votes. If you look at the figures, you'll see that some near 80 percent of independent shareholders voted against James Murdoch. This is an "embarrassment" for James Murdoch. He'll face another one, potentially, when shareholders will vote about keeping him as a director of BskyB – if a majority of independent shareholders vote against him, it'll put the board in a difficult position – they'll have to ask James Murdoch to resign.