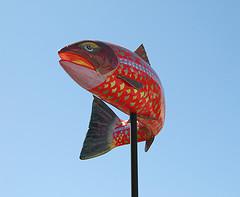 photo : John Loo
I was talking to my mate Natt the other day (who besides being a cycling freak, is also something of a computer geak ) and he was trying to explain to me about 'phishing' (yawn!!) As always, my mind was elsewhere and I thought he meant fishing!
And of course they do that in Steiermark.
Austria has world wide recognition as being a center of excellent fly fishing opportunities. Its many rivers and lakes provide unique water quality and a diversity of riverine landscapes to enjoy through the fishing season. Needless to say, Steiermark and the marvelous river Mur feature prominently as a typical Austrian riverine landscape.
Europe's center of excellence for Fly Fishing
The fast waters, diverse currents and deep holes of the river Mur, make it a challenging experience for the fly fisher. But the abundance of brown trout and grayling – not to mention the King of the Mur, the Danube Salmon (Hucho hucho) and bullhead (Cottus gobio – I think this one was named after me – muchus gobio!!), endangered species which migrate along the Mur – make the work worthwhile.
A world class wonder
The river Mur has world wide acclaim amongst anglers, for the presence of the biggest salmon in Europe – the terrific Taimen, also known as the Siberian Salmon.
Taimen are the world's largest species of salmon, which live to at least 55 years of age. Easily identified by their olive green head blending to reddish brown tail, dark red fins and white – gray belly, Taimen are piscivores (feeding mainly on other fish) though also consume rodents and birds.
Despite their predatory behavior Taimen are shy and spooky fish, lying low in deep water at the bottom of the river. Their feeding habits are cautious and legend has it that anglers have noted Taimen tend to bob their heads above water to look for fishermen, before beginning their own hunt for prey.
Elusive Huchen
The Huchen (Hucho hucho) originated in the Danube basin, where its breeding habits are best suited to the cold clear freshwaters of river and stream. They are a beautiful and endangered species, with a slender body that is nearly round at the cross-section (a bit like me really!) of reddish brown color and characterised by several dark patches in an X or crescent shape. The mature Huchen are predators of other species of fish and small mice.
Handy Hint - The best time for fishing on the river Mur, is May to September when the ice has melted and the waters  run strong and clear. Try around Muaru and Stadl an der Mur for particularly good grayling and trout.
Funnily enough, Stadl an der Mur is just where Chalet Lowonahill is located!
If you're looking for somewhere to stay, give me a call or drop me a line!