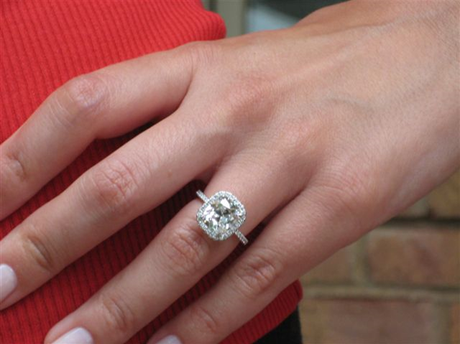 Each week I spend a large amount of my time perusing the old posts on the PriceScope forums, I know that especially now more than ever it is wonderful to escape into my sparkling fantasies. This week when our team discussed which post would be best featured for Throwback Thursday, I recalled having landed on a particularly gorgeous 3.01ct Cushion Brilliant Cut Engagement Ring that was originally posted in the Show Me the Bling forum by Hwman.
THE STORY BEHIND THE RING
HWman had a very precise vision of what they were after in the creation of this ring, as many PriceScopers do. The mission was started with research, as it should be. Heading out to view and compare several styles of rings to see which style most closely matched their vision; they did their homework. As with any diamond ring search, they leaned into the PS forums to discuss options and opinions with the many knowledgeable people at their fingertips. The result was outstanding, their hard work and perseverance paid off. Just take a look at that sparkle!
THE FINER DETAILS
They met with over 15 jewelers before deciding exactly what they were looking for. PS member HWman came to the final decision that the Harry Winston halo with modifications was the ideal home for their Cushion Brilliant Cut diamond. HWman advises that you see samples of jeweler's work before opting to get a custom made. As mentioned, not every jeweler was actually up to the task at hand. Seeking a delicately slender 1.5 MM shank, they took their time to find a jeweler that could meet their needs and it was a great success.
This magnificent 3.01ct Cushion Brilliant Cut center stone was sourced by Mark Turnowski at Brilliantly Engaged (the Engagement Rings Direct). He did a phenomenal job and found a stone that will provide smiles for a lifetime!
THE STATISTICS:
Cushion Brilliant Cut
8 Pavilion Mains
3.01ct
Color Grade: G
Clarity Grade: SI1
No Fl
55% table
68.5% depth
Crown angles greater than 40
9.11 X 7.88 X 5.40
Finger Size: 4.25
I love that HWman stuck to their goals and refused to give up until their bling dreams became a bling reality. This is an excellent illustration of the jewelry drive of PriceScopers. Joining the PriceScope community arms you with the skills and knowledge you need to make educated decisions when purchasing or custom designing jewelry.
It brings me great joy knowing that PriceScope contributed to the story of this diamond ring and as always we appreciate our members sharing their stories with us. This ring was originally posted back in 2009, and we hope it is still bringing sparkle to the life of its wearer!
Visit the original post for more pics and join me in congratulating Hwman for making TBT this week!
On Throwback Thursdays, we celebrate beautiful jewelry pieces that have been shared on the PriceScope forums over the years! Join Us next Thursday as we pull out another post from our archives.
Looking to Buy a Diamond? Learn about What Diamond to Buy.
Written by Kayti Kawachi of PriceScope Inc.