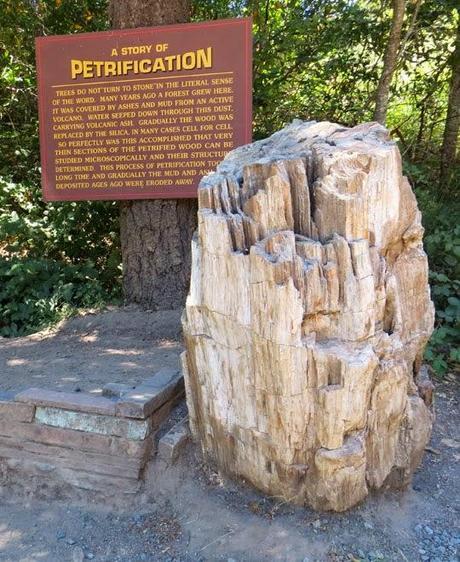 Petrified Forest, Calistoga, California
"The petrified forest, dating from the Eocene Period, is the only known example of a petrified forest in California.  Its size, scope and variety of petrification is unique in the world.  Opalized wood, obsidian, quartz crystal, petrified coral and fossilized insects number among its wonders."
California Registered Historical Landmark No. 915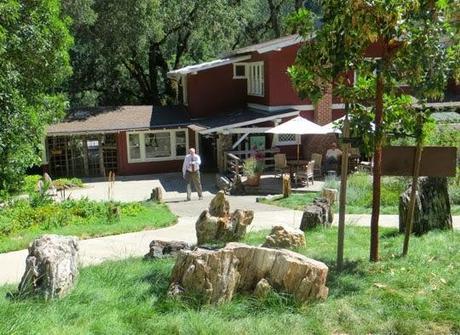 Gift shop/Museum and Garden
Like many people today, Art and I rely on GPS to get us where we're going when we travel.  But sometimes our GPS isn't as reliable as we would like it to be.  Recently, we were on our way to a wedding at the
Hans Fahden Vineyards
near Calistoga, California, located on Petrified Forest Road.  We got off the 101 freeway at Santa Rosa and wound our way along a long, narrow country road overhung with live oaks and other greenery.  It was a lovely drive and after following the turns dictated by our GPS, the voice announced: "You have arrived at your destination."  The problem was that the only thing we saw were trees and rocks–no sign of the winery, or of any other civilization!  We continued and soon came to the entrance to the
Petrified Forest
, which we decided would be a good place to ask directions.  As it turned out, we were very close and since we were early, we decided to stop for a little while and take a look around the museum and gift shop and find out more about the Petrified Forest.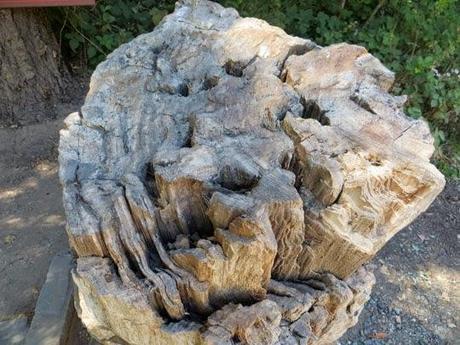 Petrified log with visible tree rings
Between three and four million years ago, a redwood forest grew in this part of northern California.  Nearby, there was an active volcano. Over time, fallen trees became covered by ashes and mud and then, as water seeped down through the dirt and dust, the buried wood was gradually replaced by minerals, thus becoming fossilized.  In some cases this occurred so precisely, that you can see tree rings and other detailed features of the trees. Under a microsope, individual cells can be seen.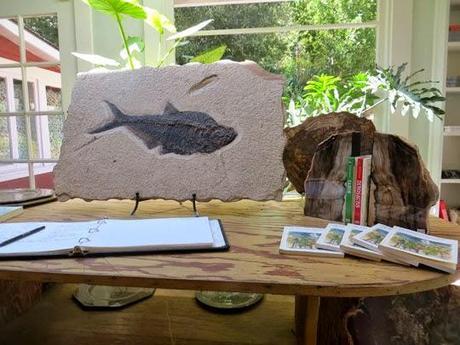 Fossil fish (from somewhere else), petrified wood bookends, guest book, and copies of The Silverado Squatters by Robert Louis Stevenson, inspired by a visit to the Petrified Forest in 1880
The museum at the entrance to the Petrified Forest is filled with samples of petrified wood and a variety of other fossils.  Outside, large pieces of petrified wood can be seen in the garden.  For a fee, one can walk through the forest and see whole logs preserved as they were when they fell millions of years ago. Guided tours are given every day at 11am, 1pm, and 3pm. We didn't have time to do the walk. Someday I want to go back and do a guided tour.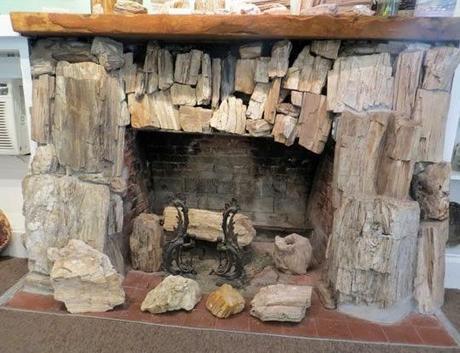 Fireplace inside gift shop constructed with chunks of petrified wood
It turned out that our wedding destination was just five minutes down the road.  I'm glad we got lost on our way.  Otherwise we would never have discovered the Petrified Forest. It is truly a unique place.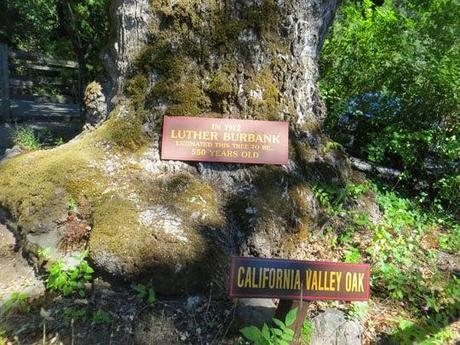 Tree near entrance. Famous botanist Luther Burbank, known as the "tree wizard" visited the Petrified Forest in 1917
The Petrified Forest• 4100 Petrified Forest Road, Calistoga Ca 94515•
[email protected]
• 707.942.6667