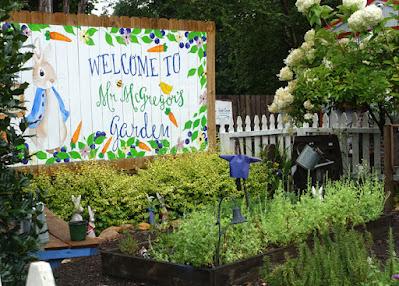 Peter Rabbit Children's Garden at the Lake Lure Flowering Bridge, Lake Lure, NC

A childhood favorite book of mine, my children, and my grandchildren is Beatrix Potter's
The Tale of Peter Rabbit
–a classic. I have read the story aloud so many times I almost have the text memorized. In the story, Peter does exactly what his mother tells him not to do: "You my go into the fields or down the lane, but don't go into Mr. McGregor's garden: your Father had an accident there; he was put in a pie by Mrs. McGregor." This should be adequate warning, but Peter was a naughty rabbit and went "straight away to Mr. McGregor's garden, and squeezed under the gate!" In the course of the story Peter is chased by Mr. McGregor (after eating his vegetables) and loses his shoes–one among the cabbages and the other amongst the potatoes. "He might have gotten away altogether if he had not unfortunately run into a gooseberry net, and got caught by the large buttons on his jacket. It was a blue jacket with brass buttons, quite new." Luckily for Peter, he manages to escape and get home safely.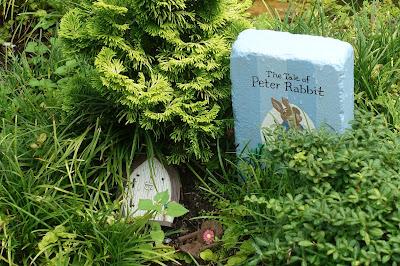 Door to the rabbit hole. "Once upon a time there were four little rabbits--Flopsy, Mopsy, Cotton-tail and Peter. They lived with their Mother in a sandbank, underneath the root of a very big fir tree."

Much to my delight, on a recent visit to North Carolina, I discovered a tiny Peter Rabbit at the Lake Lure Flowering Bridge, a floral walkway with themed plantings on a pedestrian bridge. Nestled among the plants in the Peter Rabbit Children's Garden were tiny figures enacting the elements of the story–Peter, his family, the flower pots in Mr. McGregor's potting shed, and the watering can where Peter hid until he sneezed "Kertyschoo!"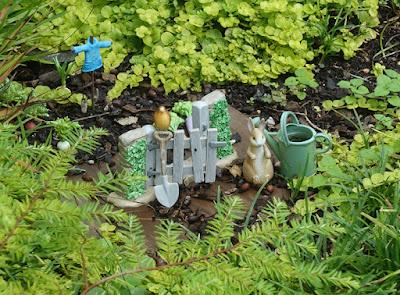 Peter outside the gate to Mr. McGregor's garden. His coat and shoes hung up to "frighten the blackbirds."

Also on display is the tiny blue jacket that Mr. McGregor hung up along with the lost shoes "for a scare-crow to frighten the blackbirds." It was wonderful to see the story come alive in a new setting and to be reminded of a favorite tale.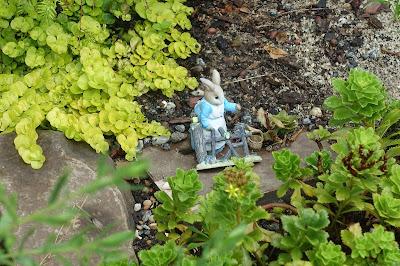 Peter's mother on her way to go shopping. "Then old Mrs. Rabbit took a basket and her umbrella, and went through the wood to the baker's."

The
Flowering Bridge at Luke Lure
, in the mountains of western North Carolina, is a wonder of nature and testament to the volunteers who turned an abandoned bridge into a beautiful floral walkway. The project began in 2012, when gardens were first planted first at either end of the bridge and then in following years on the bridge itself. I visited the Flowering Bridge in August 2021, on a trip with my family. You can read more about my visit to the Flowering Bridge at Lake Lure at my travel blog,
The Intrepid Tourist.
All text and photos copyright Caroline Arnold