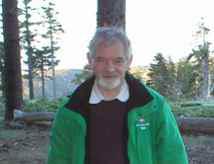 Peter Freeman
This is the latest in an occasional series highlighting performers and contestants at the  September 2011 'West Coast Eisteddfod- Welsh Festival of Arts' at the Barnsdall Art Park , Los Angeles . In this post we are proud to feature Welsh story teller, Peter Freeman , who will be appearing in the standup comedy competition..For more info about the event go here. To reserve your ticket for Saturday 24th click the button below :- 

( Approximately 250 tickets currently available. Buy early to avoid disappointment. )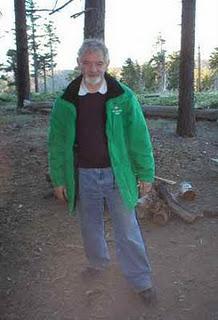 "I was born and raised in the town of Llanelli on the south coast of Wales. Outside of the UK it seems most people think of the whole island as England, when in fact there are four historic nations that make up the Island; Wales, Scotland, Cornwall and England. In Wales, more so than any of the other Celtic countries, even Ireland. We still speak the ancient language that existed before the Anglo-Saxon invasions of the 5th Century. I was 11 years old before I could speak English with any proficiency (There are some who say I don't speak it yet)

I went to work for the local bus company, South Wales Transport, in 1971. It was only a stopgap until I could find something better. I'm still looking for something better. I've been involved with mass transit ever since. I worked as a bus driver, an assistant transport manager and, for a change of pace, as a tour bus driver based in London. I was living the happy, carefree life of a bachelor and loving it. "Fall into their arms but not into their hands" was my motto. Then an American woman, on vacation, caught my bus. Before I knew it I was married and living in Los Angeles, California. We just celebrated our 21st wedding anniversary. I should mention that my wife is a Native American, Apache nation. We have two boys, half Welsh and half Apache, I joke that they are going to grow up to be drunken fighting fools."
When I came here I decided to do what I have always done and I joined the bus company. I became a federally certified instructor and yes I teach Americans how to drive a bus. As an instructor I would often point out the importance of what we do. I believe and have always believed that mass transit is essential to modern civilization."
There are a number of highlights to my career; More than I could comfortably fit into this article. The award that I am most proud of came in the year 2000 when the readers of the Downtown News voted me "Best Bus Driver" in Los Angeles. The other highlight was when I was an operator out of the West Hollywood Division, a television station back in Wales were doing a program called "The Welsh in Hollywood" We drove a bus around Hollywood and Beverly Hills with the T.V. crew on board filming and interviewing me. It resulted in a lot of e-mails and calls from friends and family. "
These days I'm a supervisor for Metro. My current assignment is as a controller at the Bus Operations Control Center. The great thing about my job is that I get to see the whole of Metro. Usually when you work in a department all that is seen is that particular area, as a controller I get to see the whole of Metro at every level. It's an eye opening experience and can be a very rewarding one."
In 2009 I received a call from a production company, Human World, based in Santa Monica. They contacted me through the Celtic Arts Center; they were making a promo video for the release of Bungie Corporation's latest addition to the Halo X-Box 360 game series called "Halo 3 ODST." I'm not a gamer and had never heard of the game up to that point. They said they wanted a song for the video and they were looking for an "Obscure" language. They felt Welsh would be a good fit and asked if I could write the song. I agreed, we used the tune from a contemporary Welsh song called "Lament" gave it a martial beat, then following the guidelines they gave me I wrote the song. It went viral on You Tube and is still very popular."
My friend Lorin Richards is putting together a beautifully illustrated book based on the Welsh alphabet. He wrote a poem where each stanza describes a character from Welsh legend and begins with a letter from the alphabet. I have been invited to contribute to the book, writing the preface and a short piece about each character to go along with Lorin's poem. The book will be ready by the end of September 2011."